In a recent blog post, Microsoft announced PowerApps Portals in preview, a low-code solution for building responsive customer portals. PowerApps Portals is the successor to Dynamics 365 Portals, which required developers to use complex web templates and have a familiarity with Liquid. Using PowerApps Portals, people familiar with Microsoft PowerApps can transition those skills into building customer-facing portals.
Microsoft is positioning this new portal offering under the PowerApps portfolio, which is known for building low-code/no-code cross platform applications. A goal of PowerApps Portals is to bring external customer-facing experiences to organizations, without requiring deep technical expertise to do so.
Dynamics 365 and PowerApps share an underlying data platform called the Common Data Service (CDS). Since CDS is common to both Dynamics 365 and PowerApps, it allows an organization to deploy a PowerApps Portal to compliment an existing Dynamics 365 instance, or as a stand alone offering on top of a base CDS instance.
A PowerApps maker can provision a portal instance from the same maker portal experience where they build apps. Once they have done so, they have a WYSIWYG editor where they can drag and drop components onto a canvas. The current components include text boxes, images, Iframe, forms, lists and breadcrumbs. Makers can then connect these components to CDS entities, such as Accounts, Contacts, Feedback or custom entities. If the maker is looking to customize the experience, they can modify the underlying HTML to provide a pixel perfect experience.
Since customer portals require people from outside an organization's tenant to connect, providing a comprehensive authentication model is a necessity. Ryan Cunningham, director of program management at Microsoft, describes how PowerApps Portals have addressed this challenge:
PowerApps Portals allow organizations to create websites which can be shared with users external to their organization either anonymously or through the login provider of their choice like LinkedIn, Microsoft Account, other commercial login providers. You can also integrate enterprise login providers using a variety of industry standard protocols like SAML2, OpenId Connect and WS-Fed . Websites can also be created for Employees who can connect using their corporate Azure Active Directory account.
Another important aspect of the service is the out-of-box Dynamics 365 Customer Experience portal templates which enable makers to quickly adopt common patterns and have a professional look and feel. These templates include Customer Self Service, Partner Management, Community Self Service and Employee Self Service.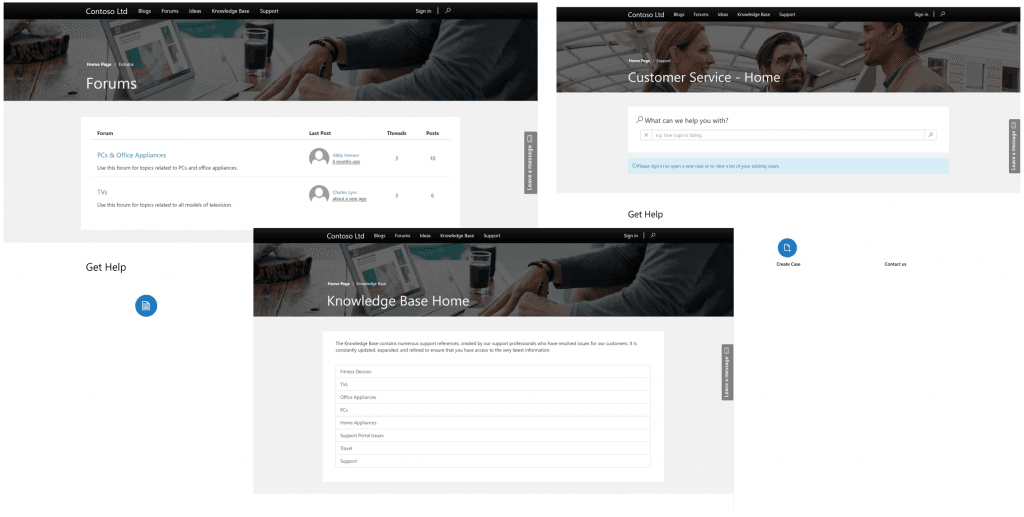 Image source: https://powerapps.microsoft.com/en-us/blog/powerapps-portals-is-now-available-for-public-preview/
Beyond the out-of-box templates, makers can also include familiar CDS components like model-driven forms, views and dashboards. Where additional customization is required, makers can also integrate with other Microsoft services like Power BI embedded, SharePoint Online and Azure Blob Storage.
InfoQ reached out to Daniel Laskewitz, a business productivity consultant with Sogeti Netherlands and Microsoft MVP, who recently participated in the private preview of PowerApps Portals to capture his thoughts on the new service. Here is what he had to say:
Many companies have been using this technology (formerly known as Dynamics 365 Portals) for their external facing websites for a while now. But, PowerApps Portals is the first step for PowerApps in supporting external user experiences. For a lot of companies, this will be the way to connect the Power Platform to the outside world. I think this will be a very interesting part of the Power Platform and something to be reckoned with.
Microsoft has updated their PowerApps and Microsoft Flow licensing terms. As part of this announcement, they have also included the licensing model for PowerApps Portals which includes:
External users (authenticated) will be $200 for 100 logins/month.
External users (anonymous) will be $100 for 100,000 web page views/month.
Internal users are able to access portals using a PowerApps per app or per user plan as per above.