After acquiring Pivotal at the end of last year, VMware has detailed in a recent webinar how it will go about fulfilling its strategy aimed to help customers build their apps, run them using Kubernetes, and manage them from a single control plane.
When VMware announced its intention to acquire the Kubernetes-centered cloud platform and service provider Pivotal in August 2019, VMware had just introduced its VMware Tanzu strategy. While VMware clarified from the outset that Pivotal was going to be an integral part of its new strategy, no details were provided concerning how Pivotal products and VMware products will coexist.
In the webinar, VMware product vice-president Craig McLuckie stated Pivotal Application Service (PAS) on Kubernetes is a top priority and will receive continued support. PAS on K8s is currently in alpha and will reach GA by the end of the year. Additionally, PAS development will include extending support for Kubernetes on Windows, already in version 2.9, scheduled for Q1 2020. Among additional new features in PAS 2.9 are improved configuration of graceful shutdown, access to high-level metrics in Apps Manager, and more.
On a similar note, McLuckie also confirmed VMware's commitment to continuing the support of BOSH, an open-source project aiming to unify release, deployment, and management of cloud applications over hundreds of VMs. In particular, VMware will focus on BOSH automated cluster and OS lifecycle management.
The existing Pivotal Container Service (PKS), also known as VMware Enterprise PKS, will get a new release, PKS 1.7, in Q1 2020. This will include additional monitoring metrics, improved upgrade and configurations, and Windows container support in beta.
One of the major goals VMware will be pursuing is providing an integrated control plane to manage both VMs and K8s in a unified way:
We made an important decision in the last few months which was that, in order to make this experience complete, we really wanted to containerise the control plane, so that it actually has the ability to run on Kubernetes, and to effectively remove the need for a discrete cluster of virtual machines off to the side. This ultimately brings considerably reduced operational complexity, potentially a smaller footprint, easier to adopt at a team level'.
Several other remarks worth highlighting referred to the convergence of the VM and K8s worlds. With the acquisition of Pivotal, VMware has two different K8s focused domains: one in Enterprise PKS, and the other is vSphere, which will integrate K8s through Tanzu K8s Grid. According to McLuckie, those two streams will converge in a non-disruptive way, and all Enterprise PKS customers will be entitled to Tanzu K8s Grid. Similarly, VMware will aim to make PAS on VMs and PAS on K8s to level up in terms of available capabilities, so both platforms receive the same treatment.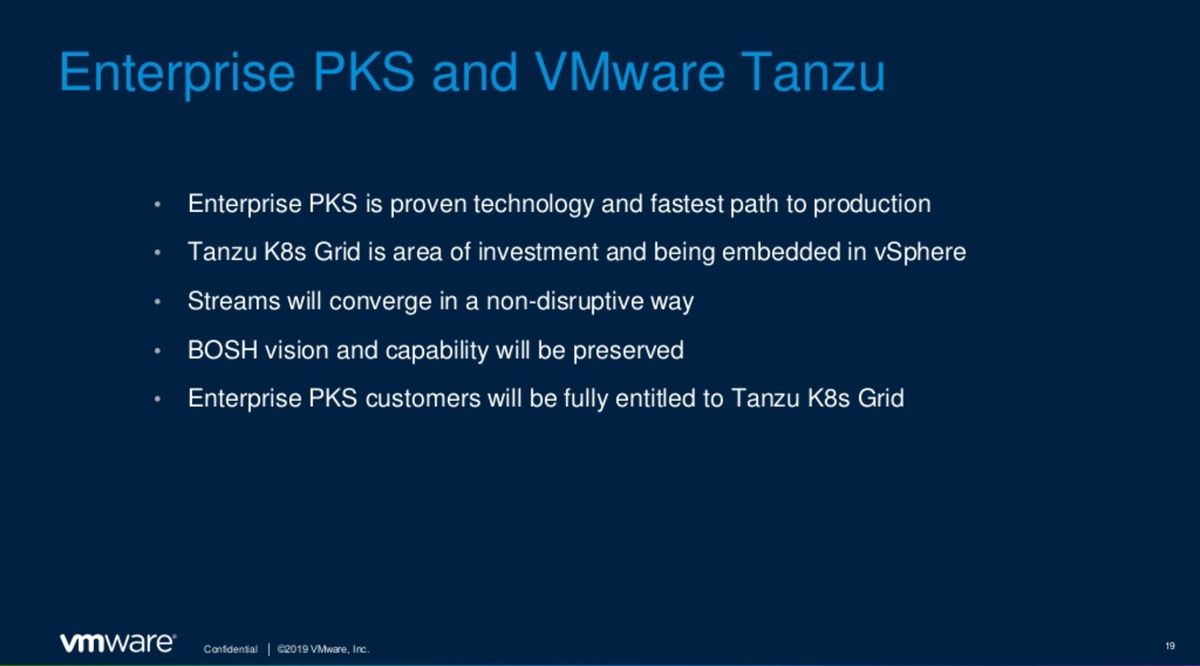 (Image courtesy VMware)
As a final note, Ian Andrews, VMware marketing vice-president for modern apps, presented the VMware stack after Pivotal merger, showing their integration from the hypervisor level to the application level.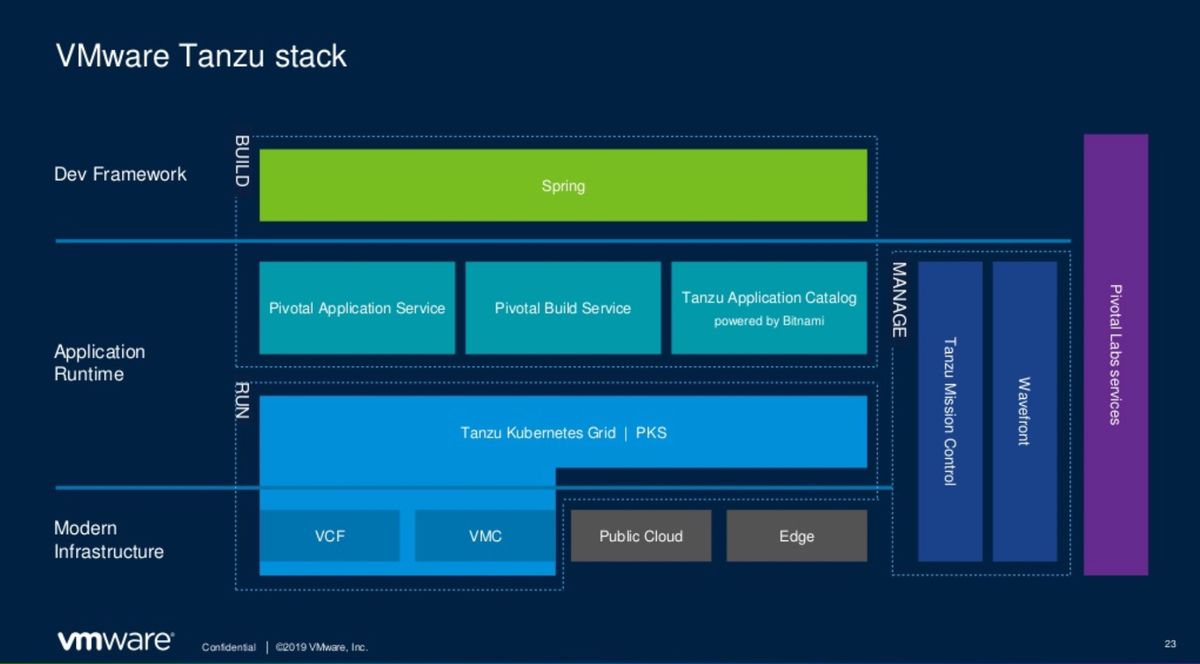 (Image courtesy VMware)
The VMware webinar included many additional details, such as the VMware innovation roadmap. If you are interested, do not miss the recording of the.webinar.