Earlier this year, Camunda hosted CamundaCon, an online conference on process automation revolving around Camunda's open-source products. The conference featured multiple use-case sessions on process automation from different industries, virtual panels on automation and digital transformation, and technical sessions on cloud-native microservices orchestration and integrating Camunda products with other technologies.
Camunda is the company behind Camunda BPM, an open-source automation platform for BPMN workflows and DMN decisions. The platform also has a cloud version for workflows powered by Zeebe, a highly scalable engine for microservices orchestration (also open-source).
CamundaCon is the bi-yearly, two-day company-sponsored event for "software developers, architects and IT executives interested in learning about modern, scalable process automation for the cloud era." Due to the COVID-19 pandemic, this year's first edition of the conference was held online, with most of its sessions being online (aided by a Slack workspace for live chat and Q&A).
One of the first notable characteristics of the event is the amount and quality of use-case sessions. During the two days of the event, speakers from companies such as Société Générale, Goldman Sachs, and Nokia Bell Labs presented cases related to different aspects of using Camunda products - from the overall user experience to more technical topics, such as integration with other technologies and authentication providers. Another characteristic of CamundaCon is the technical depth of its sessions: they are much deeper than what one would expect from a business conference, and the use-case presentations are complemented with technical overviews and walk-throughs on the product's architecture.
The conference started with a keynote from CEO Jakob Freund. After briefly covering the company's history and mission, Freund focused on showing the flexibility of process automation and orchestration envisioned by the company. After an application example on RPA, he introduced Camunda Cloud and its microservices orchestration engine, Zeebe.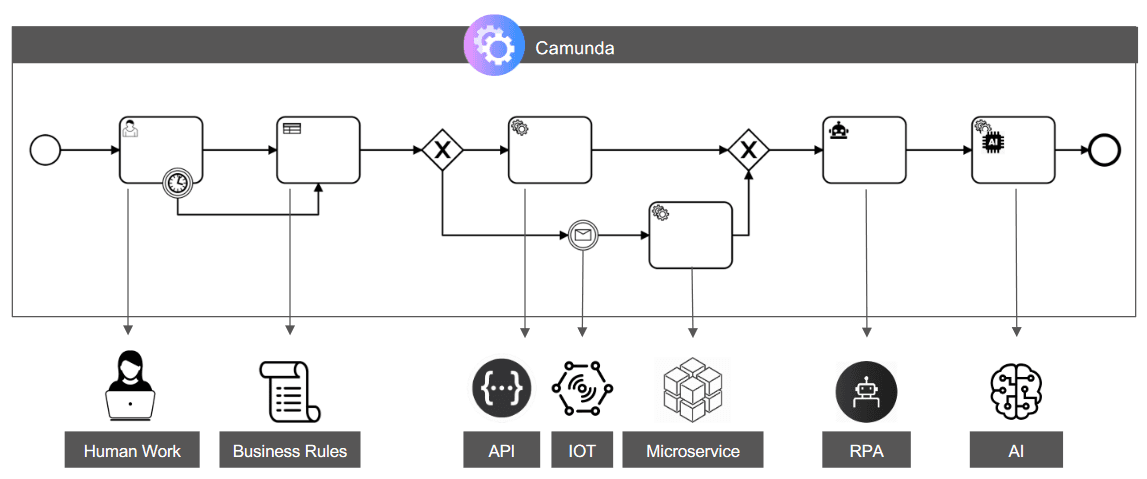 (source: CamundaCon sessions)
Following the keynote, Société Générale showed how they were using Camunda as their managed workflow platform, with over 500 processes deployed worldwide. A particularly interesting point of this presentation was related to the processes. According to Simon Letort, chief digital officer at Société Générale, half of their automated processes currently in production were not created by modeling experts.
Kris Barczynski, from Nokia Bell Labs, presented a compelling use case on how Nokia is using Camunda to guide visiting groups through tours on their campus. The case shows how Camunda is used to orchestrate all processes involved in the tour, which includes interacting with a welcoming robot and voice-controlled drones. Other customer-related case studies were presented by high-profile companies such as Goldman Sachs and CapitalOne.
From the technical perspective, the focus of the conference was on microservices orchestration and integration. Co-founder Bernd Rücker started the second day of the event talking about using workflow automation to balance orchestration with choreography (using events). His talk featured a live demo of autonomous services communicating using Kafka, and how Camunda could be used to monitor a communication workflow and help to visualize any services that failed to run and ultimately orchestrate all services involved in a peer-to-peer event chain.
Daniel Meyer, CTO at Camunda, spoke about some of their new product features and capabilities, focusing on their standalone orchestration engine (Camunda BPM Run), their monitoring platform (Optimize), and their approach to process automation as a service with Camunda Cloud. The latter is based on Zeebe, Camunda's cloud-based orchestration engine. Zeebe is reactive, allowing the creation of message-driven workflows with a publish-subscribe interaction model. It uses data replication for fault tolerance and data partitioning for high scalability (a topic addressed in detail by Sebastian Menski, engineer manager at Camunda, in a different session).

(source: CamundaCon sessions)
There were also two panels hosted during the event: a discussion on the future of RPA, and a panel on digital transformation with participants from different industries. The event ended with Freund sharing his thoughts on the state of process automation, and the highlights from the conference.
Overall, CamundaCon was a rich and engaging event. The company's industry-agnostic vision on process orchestration was certainly validated both by the different companies sharing their experiences and by the architecture implemented by Camunda. From a technical standpoint, it showcased a robust implementation of a cloud-based event-driven orchestration architecture, which is relevant beyond the domain of process automation. The next edition of CamundaCon is scheduled for later this year (October/November). In the meantime, all sessions from the most recent event can be found here.