Microsoft recently introduced Azure Health Bot, an evolution of Microsoft Healthcare Bot that is becoming an Azure service with added functionalities. Built for developing virtual health care assistants, Azure Health Bot combines medical databases with natural language capabilities.
With the migration of Microsoft Healthcare Bot to the Azure platform, Microsoft plans to offer users and organizations an integrated service with further tooling, security, and compliance options.
The new service targets developers in the healthcare sector who want to customize bots for clinical and operational use cases and build new conversational tools. Create virtual health assistants with healthcare capabilities, support privacy and security mechanisms for compliance requirements and integrate with EMR data are some of the Azure Health Bot features.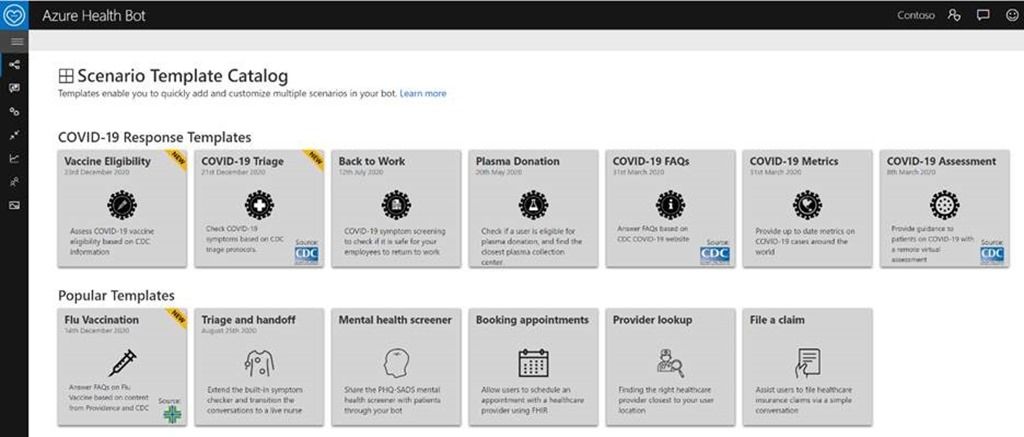 Source: https://azure.microsoft.com/en-us/blog/introducing-azure-health-bot-an-evolution-of-microsoft-healthcare-bot-with-new-functionality/
Fran Thompson, interim chief information officer at HSE Ireland, highlights the advantage of using templates on Azure Health Bot:
We did not want to build from scratch, but we wanted a robust, scalable platform that was highly secure. The health bot, built in partnership with Microsoft, started handling 30,000 enquiries a day within a few weeks of first getting up and running.
Among the templates already available on the Azure service, flu vaccination, triage and handoff, mental health screener and some templates specific to the COVID-19 response like vaccine eligibility and COVID-19 triage. Maryam Gholami, chief product officer at Providence's Digital Innovation Group, wrote an article on Medium to describe why Providence provides flu season support technology as a scenario template:
This will allow other Microsoft Azure Health Bot customers to quickly introduce flu season support in their own chatbot (...) we are now the first health system to publish a scenario template in the Microsoft Azure Health Bot Service catalog gallery, and we offer this scenario for other health systems to use for free.
Health care providers can migrate from Microsoft Healthcare Bot to Azure Health Bot without downtime. While Microsoft encourages existing customers to migrate to Azure Health Bot, the cloud provider plans to support the existing service for at least one year.
Danko Valkov, Azure DevOps engineer at KPMG, is positively impressed by the new service:
Covid 19 templates and features for assistance are available as well trying to improve the wellbeing of the nurses! Good job! Keep it up!
Azure Health Bot is currently available in two regions, East US and West Europe, is privacy protected to HIPAA standards and includes localization tools allowing to translate scenarios to multiple languages. While Azure offers a free monthly plan of 3000 messages, limited at 10 messages per second, and 200 Medical Content Consumption Unit (MCU), the standard plan starts at 501 USD every month and it increases with usage. An MCU is an additional cost component for the use of third-party medical content licensed by Microsoft.