Microsoft and Elastic have recently announced Elastic on Azure, a preview service that offers managed Elastic, Logstash, and Kibana to search, analyze, and visualize data in real time on Azure.
The new service is supported by Elastic and allows Azure customers to purchase an Elastic Cloud plan and consolidate billing through the Azure marketplace. Users can provision an Elasticsearch deployment in an Azure region, ingest logs, view and manage Elasticsearch deployments within the Azure portal and use an Azure account to sign-on into Elastic Cloud and Kibana instances.
Shay Banon, CEO of Elastic, highlights the integration between the two platforms:
Deploy Elastic in Azure as if it was a native Azure service, and ship data to Elastic as if it was a native Azure service, amazing depth of seamless integration providing our joint customers on Azure the one click search experience they deserve.
In the announcement, Microsoft explains the benefit of the new option:
For Azure customers, adopting Elastic as a managed solution alleviates typical infrastructure management requirements, so they can focus on gaining insights that help them run their business. Customers automatically benefit from the latest innovations from Elastic, with security, maintenance, and support included.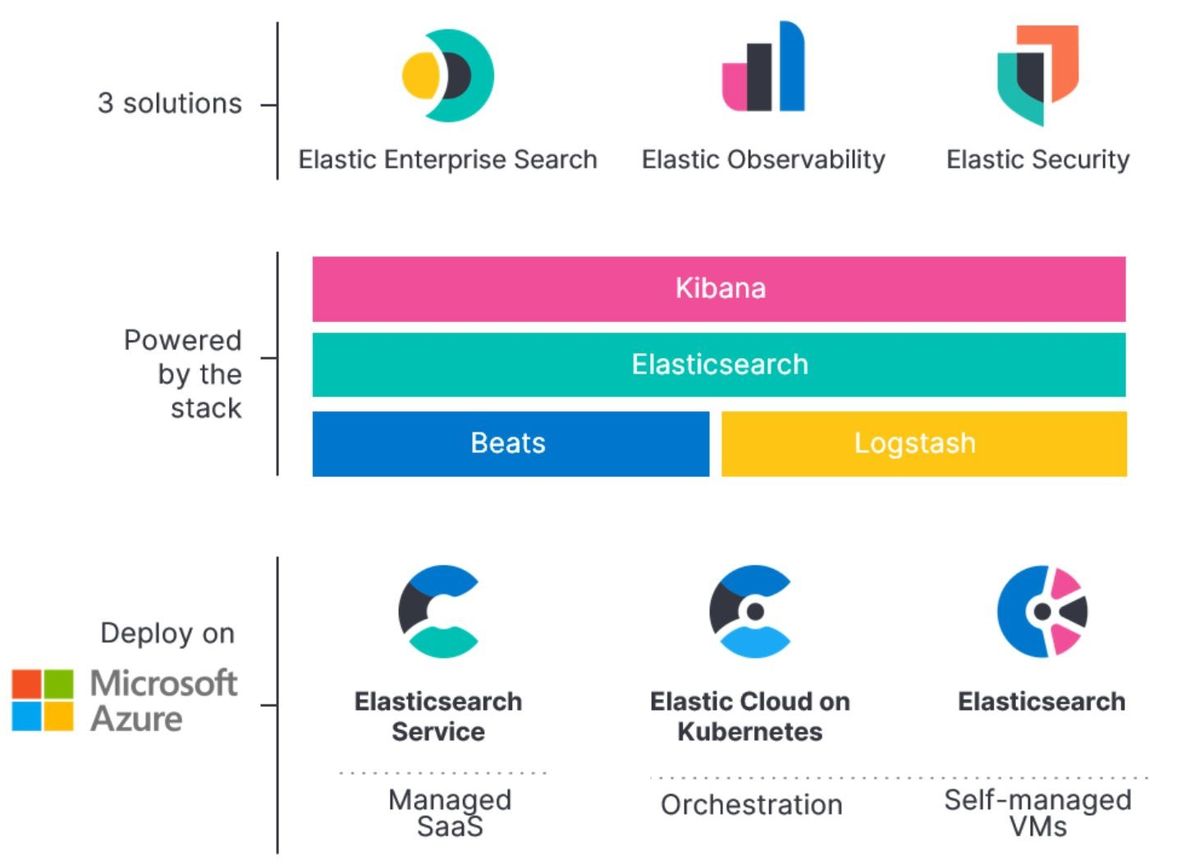 Source: https://azure.microsoft.com/en-us/blog/search-made-simple-native-elastic-integration-with-azure-now-in-preview/
Developers can find the service on Azure Marketplace and use Elastic from the Azure Control plane. Using the resources Diagnostic Settings in the Azure portal, it is possible to set up an automated log-forwarding process, sending resource logs to the Elastic stack. In a similar way, using the Elastic agent, it is possible to automatically send logs from virtual machines on Azure to the Elastic stack.
Tiago Faria, founder of 3CORESec, hopes that the new service will bring further integrations between the two platforms, reading and shipping events from serverless infrastructures:
Hope this partnership brings some attention to Functionbeat/Azure.
Azure is not the first cloud provider offering a managed solution for the Elastic stack and the full-text search engine has been recently a contentious topic between Elastic and Amazon, as reported on InfoQ. While AWS and other companies announced a fork of Elastic, OpenSearch, Azure decided instead for a partnership with Elastic, and highlighted in the launch that they are working with the "creators of Elastic". Elastic Cloud on Google Cloud Platform has been GA for many years while Alibaba Cloud Elasticsearch is the result of the collaboration between Elastic and Alibaba Cloud. Oracle offers a reference architecture to deploy Elasticsearch and Kibana on Oracle Cloud.
The Elasticsearch managed service includes 2GB enterprise search, 512MB APM, 1GB Machine Learning and Kibana nodes, and is charged in a pay-as-you-go model, according to Elastic Consumption Unit.