Google has recently introduced the option to choose a Google Cloud region according to the lowest CO2 footprint. The new feature is currently available for Cloud Run and Datastream only, with Google planning to extend the offer to more Google Cloud services in the future.
Iowa and Oregon are the recommended regions to achieve the lowest emissions in the United States and Finland and Zurich are the best options for deployments in Europe.
While Google Cloud, Azure and AWS significantly outperform other data center providers in energy efficiency, there are still differences according to the regions used. Among strategies to reduce carbon emissions, Google Cloud highlights choosing carefully the region for new applications, running batch jobs on the region with the lowest emissions and setting an organizational policy for lower emission regions, restricting the location to a subset of regions using org policies.
Regions marked with the Lowest CO2 label have a CFE% of at least 75%, or a grid carbon intensity of maximum 200 gCO2eq/kWh, where grid carbon intensity is the average lifecycle gross emissions per unit of energy from the grid and CFE% is the average percentage of carbon free energy consumed in a particular location on an hourly basis.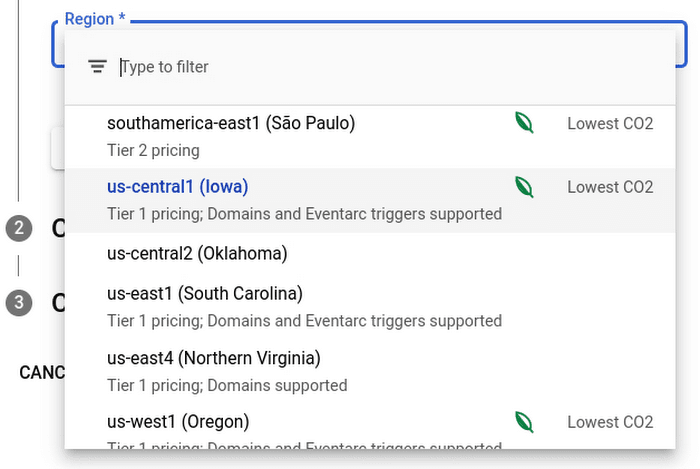 Source: https://cloud.google.com/blog/topics/sustainability/pick-the-google-cloud-region-with-the-lowest-co2
Steren Giannini, product manager at Google, suggests that the cloud provider performed some A/B testing on the new option with significant results:
Before releasing this feature, we ran experiments to measure its impact: users who were exposed to the enhanced region picker were 19% more likely to select a lower carbon region for their Cloud Run service—a significant lift. These results show that by displaying carbon information in context of when you make the decision of picking a region, we are helping you make more sustainable decisions.
In the documentation that includes a section on carbon free energy for Google Cloud regions, the cloud provider suggests choosing a region according to the latency for the end users, the price of services and the electricity required to power the application that may have a different carbon intensity according to the region. Carolee Gearhart, vice president of global SMB sales at Google, tweets:
I'm increasingly getting questions about sustainability from customers and partners alike. While Google Cloud customers already have a net neutral carbon footprint, we are making it even easier for them to choose the greenest regions to operate in.
Aaron Brighton, cloud architect and AWS Community Builder, comments:
This is awesome! Would love to see Amazon Web Services follow Google's lead here and do something similar.
Google Cloud is not the only provider trying to help companies reduce carbon emissions and set sustainability goals. Microsoft has recently introduced Microsoft Cloud for Sustainability. AWS provides a Sustainability in the Cloud section that highlights where the renewable energy projects are located, which regions are covered, and additional information about sustainability. Cloud Carbon Footprint is a free open source tool to measure cloud carbon emissions and understand cloud usage impacts on the environment. It supports AWS, Azure and Google Cloud.