At AWS Storage Day 2021, the cloud provider announced Amazon FSx for ONTAP, a managed file system for ONTAP data management software. Supporting file access and storage functionalities already used by enterprise customers, the service targets the migration to the cloud of applications and workloads that require high-performance ONTAP storage.
Similar to Amazon FSx for Lustre and Amazon FSx for Windows File Server, the managed and highly reliable file systems introduced by AWS in 2018, the service covers enterprise deployments of NetApp's proprietary operating system and allows users to provision an ONTAP environment as an AWS managed service. Jeff Barr, vice president and chief evangelist at AWS, explains the use cases for ONTAP on AWS:
ONTAP is an enterprise data management offering designed to provide high-performance storage suitable for use with Oracle, SAP, VMware, Microsoft SQL Server, and so forth. ONTAP is flexible and scalable, with support for multi-protocol access and file systems that can scale up to 176 PiB. (...) FSx for ONTAP is fully managed so you can start to enjoy all of these features in minutes.
Each file system is deployed in two availability zones with automatic replication of data and failover between the zones, offering a 99.99% availability SLA. AmazonFSx for NetApp ONTAP supports features like inline data compression, deduplication, compaction, thin provisioning, replication (SnapMirror), and point-in-time cloning (FlexClone). It can be accessed by thousands of simultaneous clients running in EC2, Amazon ECS, Amazon EKS, and other AWS managed services.
The new service provides two storage tiers, a more expensive allocated primary storage, up to 192 TiB, built on high-performance SSD and designed to hold data that is active or sensitive to latency, and an elastic capacity pool storage that is cost-optimized, designed to hold data that is accessed less frequently and that can scale to pebibytes.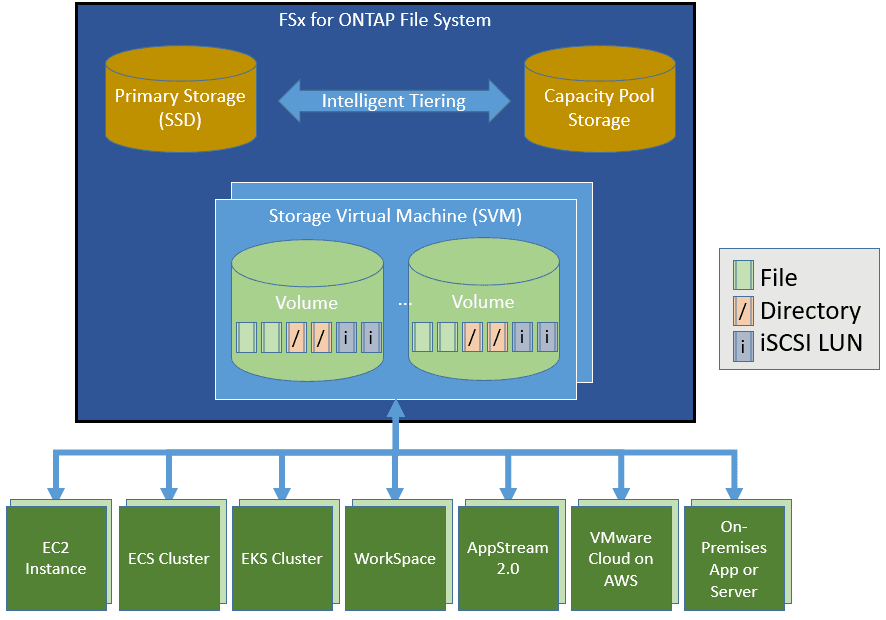 Source: https://aws.amazon.com/blogs/aws/new-amazon-fsx-for-netapp-ontap/
As for S3 and EFS, Amazon FSx for NetApp ONTAP includes an intelligent tiering functionality to manage the transition between the two storage classes according to usage. Each file system can scale up to hundreds of thousands of IOPS, 2 GB/s of read throughput, and 1 GB/s of write throughput. Sam Yates, solution architect at AWS, tweets:
This is going to be a huge win for some companies that need some of the capability NetApp ONTAP can bring to bear. Pretty excited to see it launch.
Jason Iehl, director of solutions engineering at NetApp, comments:
NetApp is thrilled about the new Amazon FSx for NetApp ONTAP file service, which combines the agility of a native @AWScloud service with the rich data management capabilities of ONTAP software.
An introduction to the new service on Judsonian.com triggered a thread on Reddit about the benefits of the PaaS service. User GoneFishingFL questions the cost of putting all the storage in the cloud:
At $7,325 a month for $100TB (backed up), that comes out to $263,700 to $439,500 (3-5 years) storage cost for that 100TB. That is assuming 80% of your data goes to lower tier storage AND 65% storage efficiency (...) That may not sound like a lot considering what that might cost you on premise, but most on premise systems support at least 4PB a rack.
Corey Quinn in his newsletter adds:
I adore this so much. NetApp is the gold standard for NFS in production environments. If I can get this service offered in a more serverless way without a 1 TB minimum filesystem size (like EFS only with ONTAP's benefits) I would advocate using it for use cases both sensible and profane.
There are five components that determine the pricing of the service: the allocated SSD storage, the number of SSD IOPS, the capacity pool usage, the provisioned throughput capacity, and the storage for backups.
NetApp also offers solutions for Google Cloud and Azure.