Amazon recently announced RDS Custom, a managed database service for legacy and custom applications that need access to the underlying operating system and database environment. RDS Custom for Oracle is the first available service.
Amazon RDS Custom automates setup, operation, and scaling of the databases while giving access to the underlying EC2 instance. Customers have access to the database and underlying operating system to configure settings, install patches, and enable native features, an approach significantly different from a traditional RDS instance. Santosh Rao, principal product manager at AWS, comments:
Great milestone for customers who seek the best of both worlds in running a managed service and wanting more control and choice.
RDS Custom provides a monitoring service, the support perimeter, that ensures that the database instance runs on a supported AWS infrastructure, operating system, and database. All changes and customizations to the underlying Oracle Linux operating system are logged using Systems Manager and AWS CloudTrail. The new service currently supports Oracle Database Enterprise Edition engine, running on Oracle Linux OS, and targets customers and deployments that historically have not been able to move to a managed database service.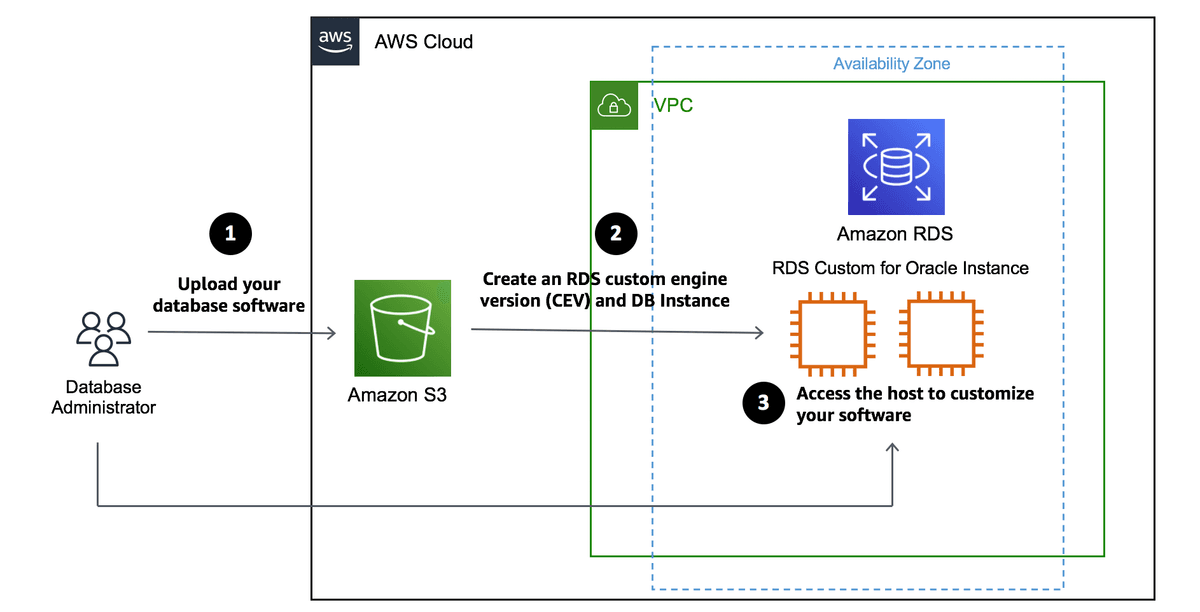 Source: https://aws.amazon.com/blogs/aws/amazon-rds-custom-for-oracle-new-control-capabilities-in-database-environment/
Channy Yun, principal developer advocate at AWS, highlights the markets that might benefit from the new option:
There are some legacy and packaged applications that require customers to make specialized customizations to the underlying database and the operating system (OS), such as Oracle industry specialized applications for healthcare and life sciences, telecom, retail, banking, and hospitality. Customers with these specific customization requirements cannot get the benefits of a fully managed database service like Amazon RDS, and they end up deploying their databases on premises or on EC2 instances.
Using the RDS Custom option, high availability, database backups, and software maintenance are not anymore fully managed but are under a shared responsibility model between the customer and the cloud provider. AWS documents how to connect to a RDS Custom DB instance using SSH or AWS Systems Manager.
Clay Moore, AWS architect at Wipro, hopes that Microsoft databases will be supported soon:
Now we need RDS Custom for MS SQL for those workloads that require SA access and I won't have to build any more SQL clusters on AWS.
As highlighted in the FAQ, scaling of the DB instances is limited by the terms of the Oracle license and customers are responsible for maintaining a third-party support agreement for the database software. Amazon RDS Custom for Oracle is currently available in a subset of AWS regions, including North Virginia and Ireland and runs under a bring your own license (BYOL) model. Pricing is different and more expensive than for equivalent traditional RDS instances.