At its recent Ignite conference, Microsoft announced the new Azure OpenAI Service in preview, allowing access to OpenAI's API through the Azure platform. This new Azure Cognitive Service will give customers access to OpenAI's powerful GPT-3 models, along with security, reliability, compliance, data privacy, and other enterprise-grade capabilities available through the Azure platform.
Earlier, the company invested in OpenAI, founded initially as a non-profit open-source organization by several investors, including Tesla founder Elon Musk. And the OpenAI API is the first commercial product in the for-profit OpenAI LP entity, allowing developers to leverage the general-purpose model for natural language GPT-3. The model GPT-3 and its fine-tuned derivatives, such as Codex, can be tailored to handle applications requiring a deep understanding of language, such as converting natural language into software code, summarizing large amounts of text, and generating answers to questions.
By bringing the OpenAI API in Azure, Microsoft will enable companies to deploy GPT-3 in a way that complies with the laws, regulations, and technical requirements unique to their business or industry. For example, in the Ignite Book of News, the company stated:
The new service can be applied to a variety of use cases, from summarization to content and code generation. With responsible AI controls and advanced fine-tuning, customers can apply these models to their most mission-critical apps.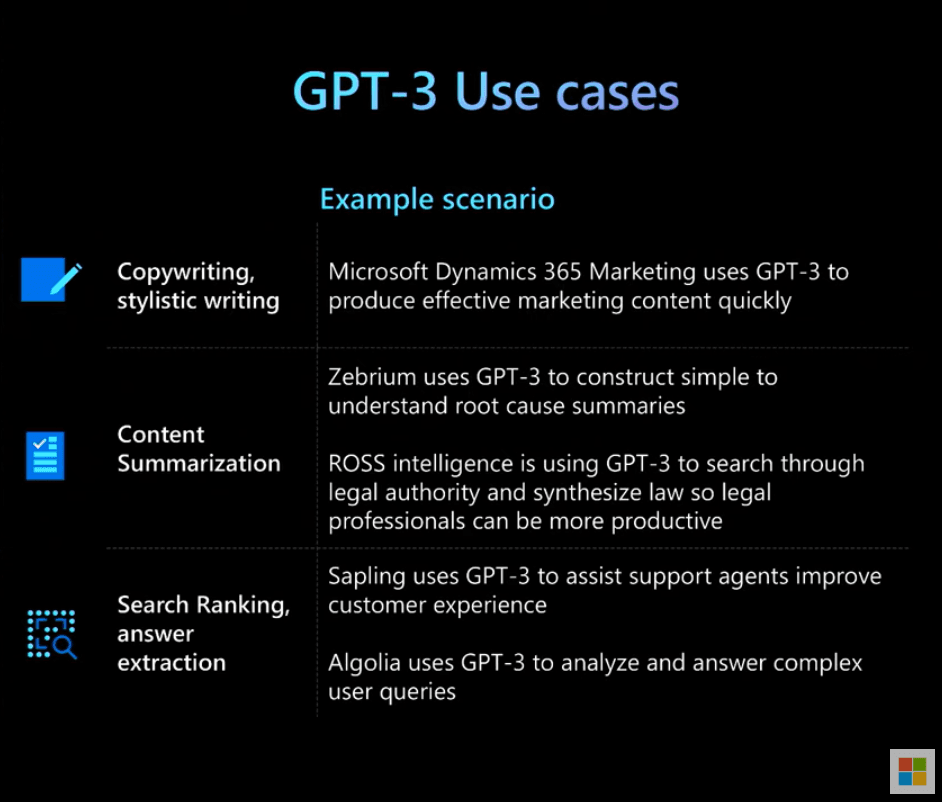 Source: https://www.youtube.com/watch?v=HTw4cJy3XNk (Screenshot)
With the Azure OpenAI, Microsoft further expands its AI languages services portfolio and keeps up with its other public cloud competitors Google and AWS. Google started with neural networks for speech early on, bringing Cloud Text-to-Speech, and Cloud Speech-to-Text to GA in 2018. And AWS has been offering Amazon Transcribe since the same year. Dion Hinchcliffe, vice president and principal analyst at Constellation Research, said in a tweet:
My take: @Microsoft's licensing of #GPT3 in @Azure's #OpenAI is a potential game-changer. When combined with the firm's AI at Scale initiative, CIOs have the ability to bring strategic #AI capabilities to bear quickly.
In addition, Eric Boyd, Microsoft corporate vice president for Azure AI, said in an Azure AI blog post on Azure OpenAI:
It really is a new paradigm where this very large model is now itself the platform. So companies can just use it and give it a couple of examples and get the results they need without needing a whole data science team and thousands of GPUs and all the resources to train the model. I think that's why we see the huge amount of interest around businesses wanting to use GPT-3 — it's both very powerful and very simple.
Lastly, Azure OpenAI will initially be available by invite only, and further details of Azure OpenAI Service are available through the FAQ.