As part of a trend towards serverless analytics options, AWS announced the public preview of Amazon Redshift Serverless. The latest version of the managed data warehouse service targets deployments where it is difficult to manage capacity due to variable workloads or unpredictable spikes.
Amazon Redshift Serverless supports JDBC/ODBC-compliant tools and the Redshift Data API and is designed for sporadic workloads, development and test environments and ad-hoc business analytics, like anomaly detection or ML-based forecasting. Danilo Poccia, chief evangelist EMEA at AWS, explains:
Amazon Redshift Serverless automatically provisions the right compute resources for you to get started. As your demand evolves with more concurrent users and new workloads, your data warehouse scales seamlessly and automatically to adapt to the changes. You can optionally specify the base data warehouse size to have additional control on cost and application-specific SLAs.
As for the serverless documentation, most of the features supported by an Amazon Redshift provisioned cluster are also supported on a serverless endpoint but there are known issues and limitations during the preview, including the lack of public endpoints and support limited to a subset of availability zones and regions.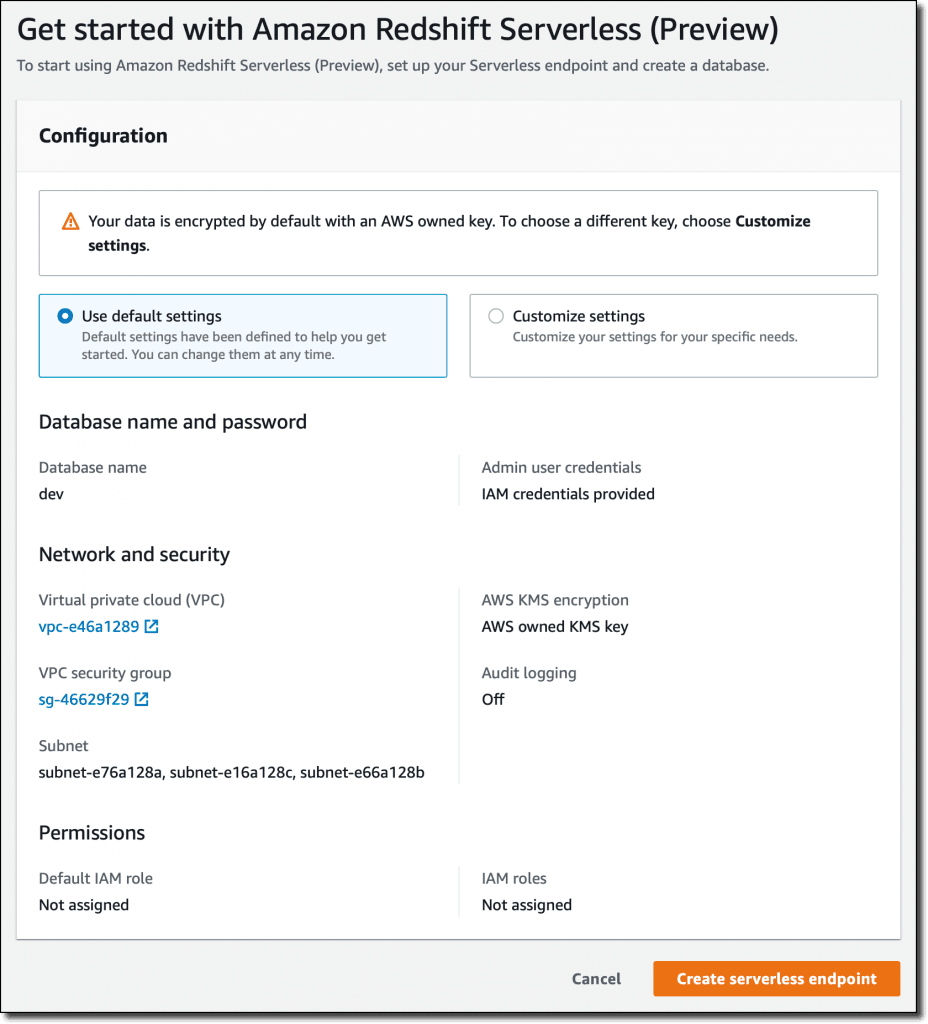 Source: https://aws.amazon.com/blogs/aws/introducing-amazon-redshift-serverless-run-analytics-at-any-scale-without-having-to-manage-infrastructure/
During his first keynote at re:Invent, Adam Selipsky announced a serverless option for different analytics services, not only Redshift: Amazon EMR Serverless and Amazon MSK Serverless are now in public preview while Amazon Kinesis on-demand is generally available. Karan Desai, solution architect at AWS, tweeted:
At this rate, by the end of his keynote, Adam Selipsky is going to announce that the company's name is being changed to Amazon Web Serverless.
Mark Nunnikhoven, cloud strategist at Lacework, comments:
RedShift is under utilized by builders. mainly because it's terrifying, especially when you look at the cost. The serverless announcement will open it up to a whole new audience.
Separately Amazon has announced Amazon Redshift ML, a new option for data analysts and database developers to create, train, and apply machine learning models using SQL commands.
Concerned about the costs of the serverless options and the overlapping with Amazon Redshift Spectrum, Coney Quinn, cloud economist at The Duckbill Group, tweets:
And now there are Serverless options for RedShift (that isn't Spectrum?), EMR, MSK, and Kinesis. The devil is of course in the pricing details, but yay!
Customers pay separately for compute and storage on Redshift Serverless, with per-second billing and compute capacity measured in Redshift Processing Units (RPUs) while storage is charged in a similar way to a provisioned cluster using RA3 instances. The preview is limited to one serverless endpoint for each AWS account and is not free but Amazon provides 500 USD in credits for compute, storage, and snapshot usage of Amazon Redshift Serverless.