Recently, AWS announced AWS Well-Architected Custom Lenses, a new feature of the AWS Well-Architected Tool. With this new feature, customers can bring their own best practices to complement the existing framework based on their industry, operational plans, and internal processes.
The company launched its Well-Architected Framework back in 2015. It released the self-service tool Well-Architected Tool in 2018 – allowing customers to review AWS workloads at any time without needing an AWS Architect to be present. The tool includes lenses as an extension of the Well-Architected Framework, such as the Serverless lens introduced in 2017 and the SaaS lens in 2020. During the annual re:Invent, the company allows customers to add their own lenses with the custom lenses feature, which provides a consolidated view and a consistent way to measure and improve workloads on AWS without relying on external spreadsheets or third-party systems.
Users can author a custom lens by editing a JSON preset template to define questions, choices, helpful resources, improvement plans, and risk rules. By downloading the template from the AWS Well-Architected Tool console, they can work on it locally and then re-upload it. The JSON structure comprises multiple pillars in the template, each containing various questions, each with its own choices and risk rules.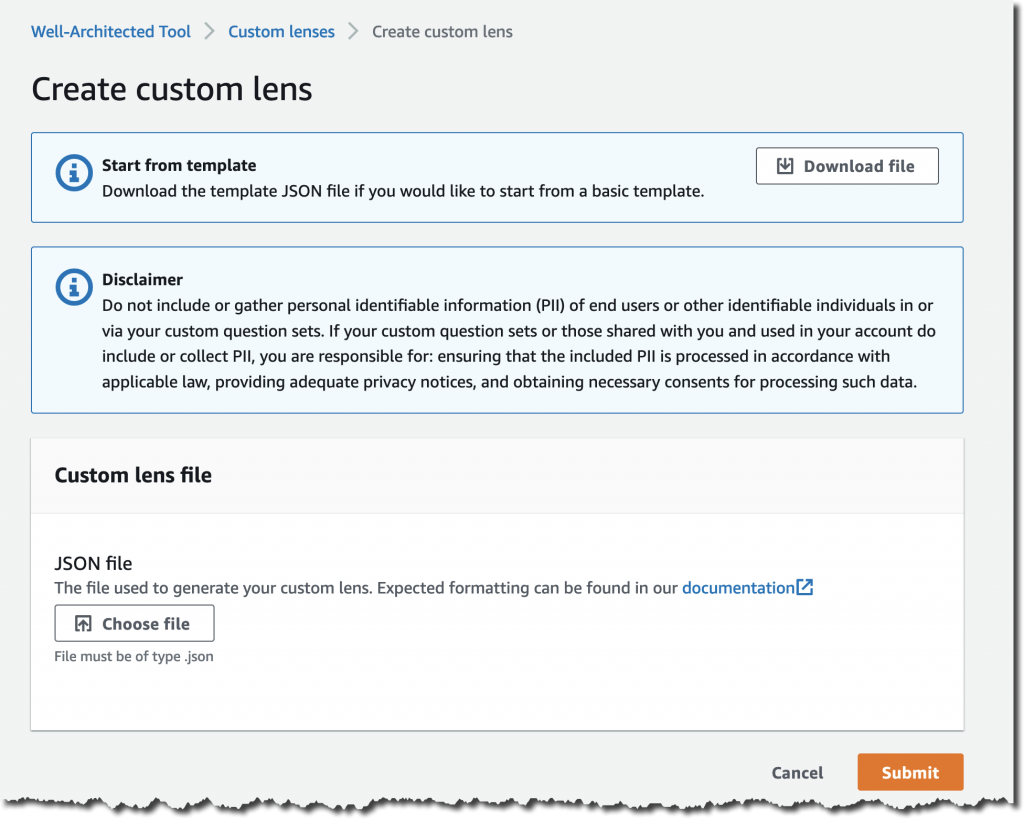 Source: https://aws.amazon.com/blogs/aws/well-architected-custom-lenses-internal-best-practices/
Once a user uploads a lens, it becomes available in the Well-Architected Tool. Next, they need to publish and assign a version before creating a new workload for review and applying AWS-owned and custom lenses. During the workload review, users will go through each pillar and questions of the custom lens, using the same user interface provided by the AWS Well-Architected Tool.
Philip Fitzsimons, a co-author of the AWS Well-Architected Framework, tweeted:
This feature is very valuable, now you can create a review with the set of questions that reflect what your org cares about, and have the WA Tool provide the UX, Storage and API to manage it all.
In addition, Jeff Zemerick, search consultant at OpenSource connections, tweeted:
I can think of so many use-cases for this, especially workloads that have industry regulations. It's a nice addition to the Well-Architected tool.
Currently, custom Lenses are available in all AWS Regions where the AWS Well-Architected Tool is available, at no cost. Furthermore, customers can define up to five custom lenses and share them across AWS Accounts, in addition to the existing Well-Architected Framework and AWS-owned Lenses.