Recently, Microsoft announced Microsoft Purview, a new product branding bringing together the Azure Purview data governance service with various Microsoft 365 compliance solutions.
Last October, the company launched Azure Purview in general availability and now merges it with its Microsoft 365 Compliance portfolio to provide a unified offering for customers. The new offering branded Microsoft Purview includes data governance from Microsoft Data and AI and compliance and risk management from Microsoft Security. Furthermore, the offering will also be complemented by identity and access management, threat protection, cloud security, endpoint management, and privacy management capabilities.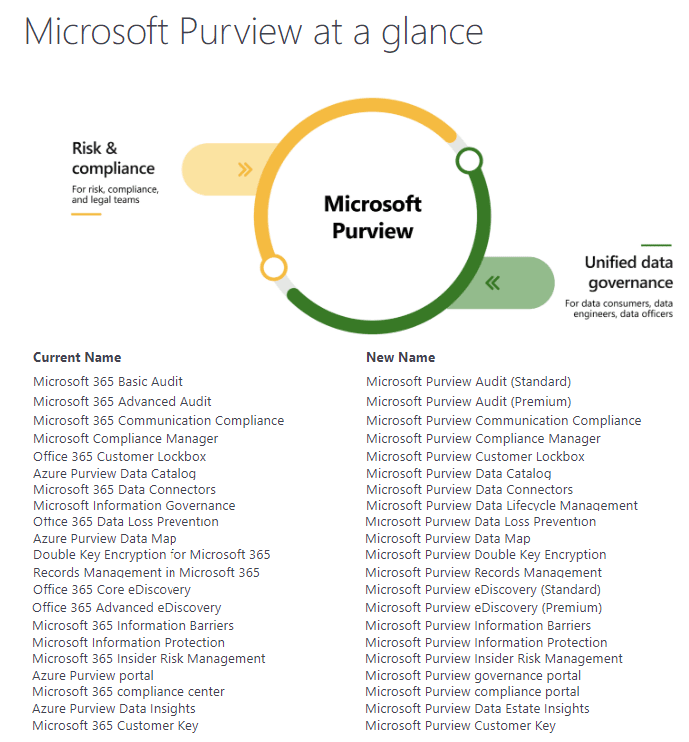 Source: https://www.microsoft.com/security/blog/2022/04/19/the-future-of-compliance-and-data-governance-is-here-introducing-microsoft-purview/
With Microsoft Purview, the company aims to assist customers in seeing their assets across their entire data estate, safeguarding and managing sensitive data across clouds, apps, and endpoints, and managing risks and regulatory compliance.
Vasu Jakkal, corporate vice president, security at Microsoft, said in an introductory video:
Microsoft Purview brings together unified data governance from 'data and AI' and risk and compliance solutions from security.
In addition, Alym Rayani, general manager of compliance and privacy marketing at Microsoft, stated in a Microsoft Security blog post:
Over the past two years, organisations have seen a massive increase in their digital footprint, leading to data fragmentation and growth across a multitude of applications, devices, and locations. It's a big digital world for any organisation to try to manage. The unification of Microsoft's data governance and compliance capabilities to Microsoft Purview reflects our belief that the world needs a simpler and more unified approach to data.
In addition to the rebranding, the company also announced the general availability of Microsoft Purview Data Loss Prevention for macOS endpoints, the expansion of more than 50 sensitive information types, multi-stage retention in Microsoft Purview Data Lifecycle Management, and more functionality to Microsoft Purview eDiscovery (Premium) to improve identification of relevant data in Teams.
Currently, Microsoft Purview is available for Azure customers in the Microsoft Purview governance portal, and customers of Microsoft 365 E5 or Microsoft E5 Compliance can use the Microsoft Purview compliance portal. And lastly, the pricing of the service is available on the pricing page, and details on the FAQs and documentation landing page.