Recently Microsoft announced the preview of Premium SSD v2, the next generation of Microsoft Azure Premium SSD Disk Storage. This new disk offering provides, according to the company, the most advanced block storage solution designed for a broad range of input/output (IO)-intensive enterprise production workloads that require sub-millisecond disk latencies as well as high input/output operations per second (IOPS) and throughput—at a low cost.
The last update around Azure Disk Storage was in 2019 with the introduction of Ultra Disks. This managed disk offering provides customers with high throughput and high input/output (IO) for Azure virtual machines (VMs). With Premium SSD v2, customers can now provision up to 64TiBs of storage capacity, 80,000 IOPS, and 1,200 MBPS throughput on a single disk.
Compared to Premium SSD (first version), the IOPS performance depends on the selected disk size, yet v2 provides a 3000 IOPS baseline performance regardless of the size. Furthermore, Premium SSD V2 has five types of persistent disks.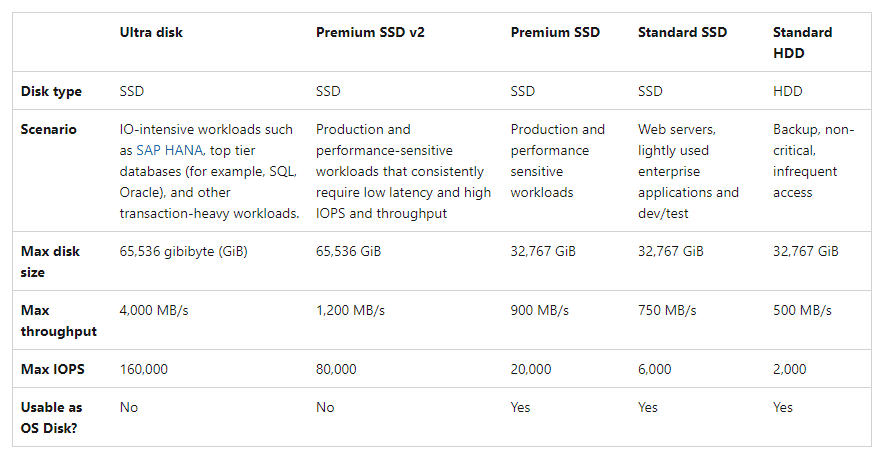 Source: https://docs.microsoft.com/en-us/azure/virtual-machines/disks-types#disk-type-comparison
The Premium SSD v2 is well-suited to a broad range of production workloads such as – SQL Server, Oracle, MariaDB, SAP, Cassandra, Mongo DB, big data/analytics, gaming, on virtual machines or stateful containers. In addition, Aung Oo, General Manager, Azure Storage, explained in an Azure blog post the key benefit of Azure Premium SSD v2 Disk Storage:
You can dynamically scale up or scale down the IOPS and throughput as needed without downtime, allowing you to manage disk performance cost-effectively while avoiding the maintenance overhead of striping multiple disks to achieve more performance.
However, a respondent outworlder on a Hacker News thread stated there are quite some limitations:
Premium SSD v2 limitations

• Premium SSD v2 disks can't be used as an OS disk.
• Currently, Premium SSD v2 disks can only be attached to zonal VMs.
• Currently, Premium SSD v2 disks can't be attached to VMs in virtual machine scale sets.
• Currently, taking snapshots isn't supported, and you can't create a Premium SSD v2 from the snapshot of another disk type.
• Currently, Premium SSD v2 disks can't be attached to VMs with encryption at host enabled.
• Currently, Premium SSD v2 disks can't be attached to VMs in Availability Sets.
• Azure Disk Encryption isn't supported for VMs with Premium SSD v2 disks.
• Azure Backup and Azure Site Recovery aren't supported for VMs with Premium SSD v2 disks.
A Microsoft employee larrybud responded in the thread:
I don't think it's fair to generalize about the limitations of Premium SSD V2 disks. This service is brand-new and still in preview. Services in preview are just that, preview, and may not be fully featured yet. I would expect many/most of these limitations to be removed by the time the service reaches GA (just speculating, I don't have any specific knowledge of the service).
Premium SSD v2 is available by request only in both East US and West Europe Azure regions. And once enrolled, customers can create and manage Premium SSD v2 via the Azure portal, PowerShell, and CLI SDKs.
Lastly, according to the pricing page, the total cost of Premium SSD v2 Disk Storage will depend on the size and number of disks you provision and their configurations. However, the page states that Premium SSD v2 pricing will become available as of August 1, 2022.