Azure recently announced the public preview of Microsoft Dev Box, a workstation in the cloud targeted to developers. Integrated with Windows 365, the new service supports any developer IDE, SDK, or tool that runs on Windows and simplifies onboarding of new developers.
Announced in private preview at the Microsoft Build developer conference in May, Microsoft Dev Box is an Azure service that provides developers with secure on-demand workstations for teams of any size. Anthony Cangialosi, principal group PM of Visual Studio Core at Microsoft, explains:
With Microsoft Dev Box, developers can focus on writing the code only they can write instead of trying to get a working environment that can build and run the code. Dev boxes are ready-to-code and pre configured by the team with all the tools and settings developers need for their projects and tasks.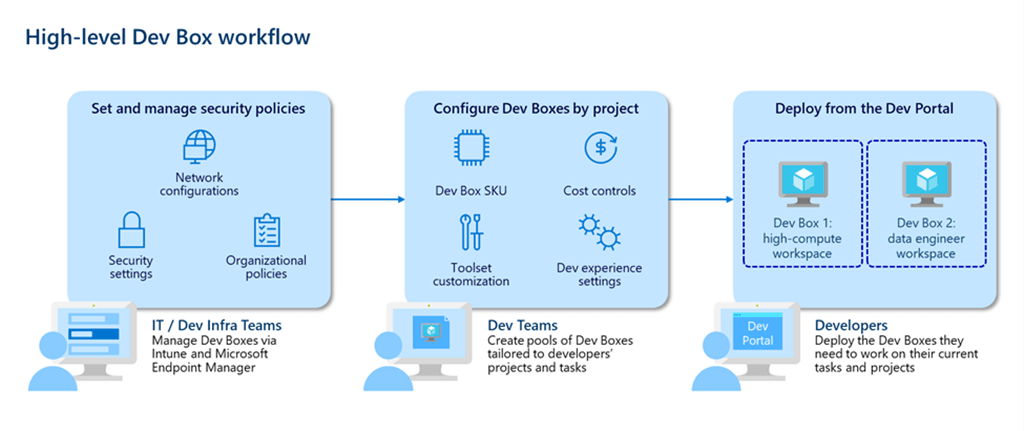 Source: https://azure.microsoft.com/en-us/blog/announcing-microsoft-dev-box-preview/
Marius Sandbu, cloud evangelist at Sopra Steria, wrote an article on how to get started with Microsoft DevBox. He explains:
From an operations perspective, it is a combination of the Windows 365 front-end portal, where developers gain access to a self-service front-end to their virtual machines, and the RDS components of Azure Virtual Desktop, which means that it is running much of the same core components underneath.
David Rousset, senior program manager at Microsoft and co-author of Babylon.js, tweets:
Microsoft Dev Box will really help a lot with the onboarding of new developers in a team.
Sharing many features with Windows 365 and Azure Virtual Desktop, the new service is aimed at developers providing a VDI desktop in Azure. According to the cloud provider, the service supports any IDE, SDK, or tool that runs on Windows and developers can use it to build desktop, mobile, IoT, and web applications. It supports building cross-platform apps using Windows Subsystem for Linux and Windows Subsystem for Android. Sandbu concludes:
So far being a preview it seems to be pretty solid and I like the way that they design the product, however (...) I would like to define compute SKUs myself and not be bound to the resources that Microsoft have defined, so it means that I'm bound to what Microsoft is showing in the Dev Box definition feature. GitHub CodeSpaces should also be a part of this or at least as an alternative feature.
Hibernation of a workstation is not yet available but should be added to the preview in the next few weeks. Microsoft Dev Box is available as a preview from the Azure Portal on a consumption-based compute and storage pricing model. During the public preview, the first 15 hours of the Dev Box 8vCPU and 32 GB Memory SKU every month are free.