Google recently introduced Cloud Backup and Disaster Recovery (DR), allowing customers to enable centralized backup management directly from the Google Cloud console. The new backup and recovery service is designed to work with cloud storage repositories, databases, and applications.
With Google Cloud Backup and DR, administrators can effectively manage backups spanning multiple workloads. Moreover, they can generate application- and crash-consistent backups for VMs on Compute Engine, VMware Engine, or on-premises VMware, databases (such as SAP, MySQL, and SQL Server), and file systems. And the service on the Google Cloud platform provides a holistic view of backups across multiple workloads.
Google Cloud Backup and DR store the backup data in its original, application-readable format, which allows backup data for many workloads to be directly available from long-term backup storage (using, for example, cost-effective Cloud Storage). In addition, it supports the so-called space-efficient "incremental forever" storage technology, ensuring customers only pay for what they need.
Jaswant Chajed, and Jerome McFarland, both product managers at Google Cloud, explain in the blog post on Google Cloud Backup and DR:
With "incremental forever" backup, after Google Cloud Backup and DR takes an initial backup, subsequent backups only store data associated with changes relative to the prior backup - allowing backups to be captured more quickly and reducing the network bandwidth required to transmit the associated data. It also minimizes the amount of storage consumed by the backups, which benefits you via reduced storage consumption costs.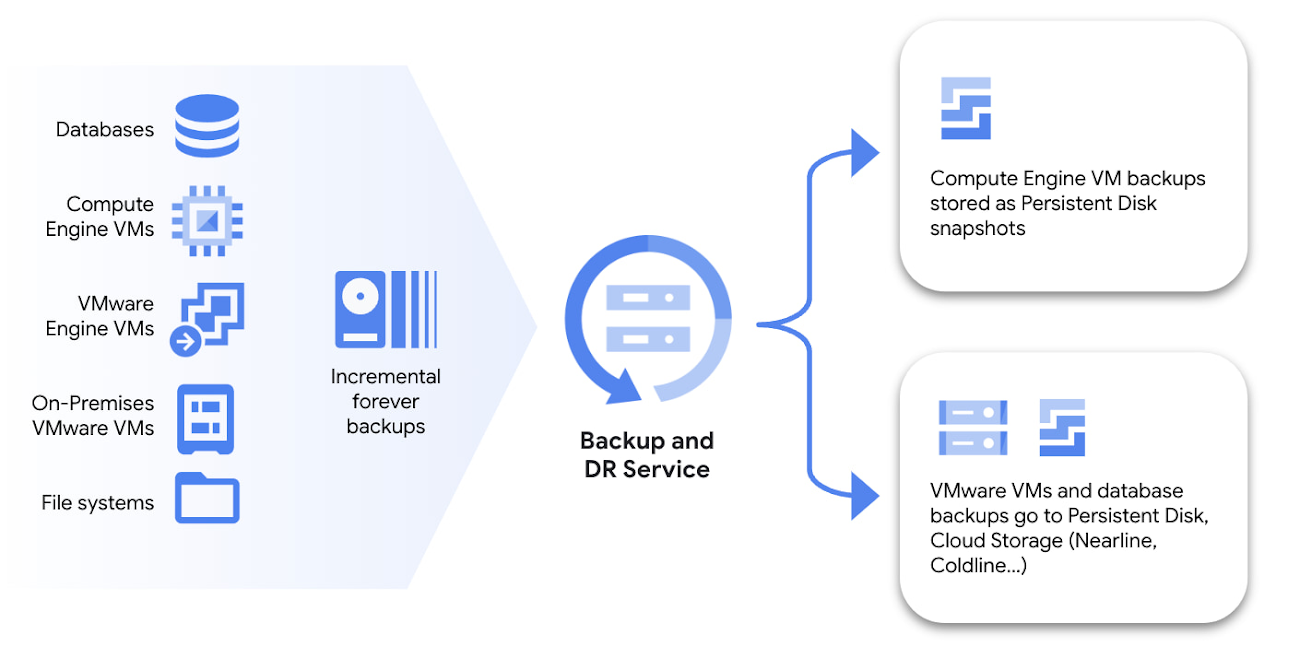 Source: https://cloud.google.com/blog/products/storage-data-transfer/introducing-google-cloud-backup-and-dr
Users of Google Backup and DR also can choose where to store the backups on Google Cloud Storage through the various Cloud Storage classes.
Other public cloud vendors like Microsoft offer backup and disaster recovery services. Azure offers an end-to-end backup and disaster recovery solution similar to Google's Backup and DR, which is secure, scalable, and cost-effective—and can be integrated with on-premises data protection solutions. Yet it's not a single centralized service.
Richard Seroter, director of outbound product management, tweeted on the new backup and recovery service:
This looks fairly comprehensive, from both a "sources" perspective (VMs in the cloud or on prem, databases, file systems) and user experience.
In addition, Antonio Gulli, a director of engineering at Google, tweeted:
Google #backup and #disasterrecovery these are two critical things #googlecloudplatform was missing, and now another step for increasing safety and reliability
More details of the new backup and recovery service are available on the documentation website, and pricing details are on the pricing page.