AWS recently announced that starting from February 2024, they will be charging for public IPv4 addresses. According to the cloud provider, this change aligns AWS with other cloud providers, encourages frugal usage of a scarce resource, and accelerates the adoption of IPv6.
The new charge will be applicable across all AWS regions and services, including EC2 instances, RDS database instances, EKS nodes, and other service-managed public IPv4 addresses, such as internet-facing ELB, NAT gateways, and AWS Global Accelerators. At $0.005 USD per hour, the price hike will add $43.8 USD per year for every IP address. Jeff Barr, chief evangelist at AWS, explains:
IPv4 addresses are an increasingly scarce resource and the cost to acquire a single public IPv4 address has risen more than 300% over the past 5 years. This change reflects our own costs and is also intended to encourage you (...) to think about accelerating your adoption of IPv6 as a modernization and conservation measure.
To encourage the transition to IPv6 and the best use of public IPv4 addresses, AWS cost and usage reports will now include public IPv4 address usage. The cloud provider also launched Public IP Insights, a new feature of VPC IP Address Manager, providing a breakdown of public IP types and EIP usage.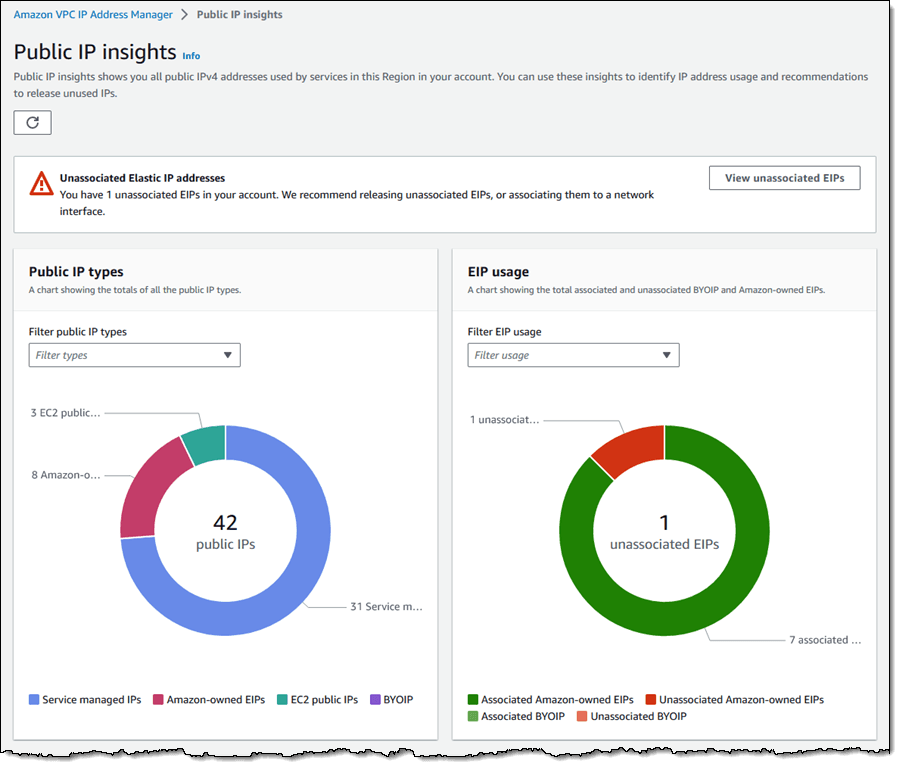 Source: AWS blog
In a separate article, Alexandra Huides, principal network specialist solutions architect at AWS, Aditya Santhanam, product manager at AWS, and Matt Lehwess, senior principal solutions architect at AWS, explain how to identify and optimize public IPv4 address using the new CUR information:
In the updated CUR you will see two new usage types for public IPv4 addresses: PublicIPv4:IdleAddress: shows usage across all public IPv4 addresses that are idle in your AWS account. PublicIPv4:InUseAddress: shows usage across all public IPv4 addresses that are in-use by your AWS resources. These include EC2 public IPv4 addresses, Elastic IP addresses, and service managed public IPv4 addresses.
Corey Quinn, chief cloud economist at The Duckbill Group, explains the challenge with IPv4 addresses and writes:
It's a reasonable way of ensuring the rest of us aren't made to suffer for the poor planning of a small subset of customers and incentivizing good IP addressing behavior for the rest of us. This brings AWS in line with Google Cloud and Azure's pricing policies on IPv4 addresses. Frankly, the price hike is a good thing, once we navigate the rocky transition period to relearn how networking economically works in AWS.
Paweł Zubkiewicz, founder of CloudPouch.dev, does not agree:
Such significant and sudden change is never a good thing! Half a year is not enough time for most of the companies that, as Corey said, are "doing something psychotic with thousands of IP addresses" to change their architecture.
Until now, AWS charged only for public IPv4 addresses that were allocated but not attached to an EC2 instance. In a popular Reddit thread, user rootbeerdan is one of many users highlighting the limited IPv6 support on AWS:
Amazon really should not be charging for IPv4 addresses when even basic stuff like SSM isn't IPv6 ready.
The AWS Free Tier will now include 750 hours of public IPv4 address usage per month for the first 12 months and customers will not be charged for owned IP addresses using Amazon BYOIP.