Google recently introduced budgets for project users, allowing users with a project owner or project editor role to create budgets for their projects without needing access to the higher-level billing account permissions to get notifications based on their cloud spend. This Cloud Billing feature is currently in preview.
With budgets for project users, there is no longer a billing account permission requirement, and users can create and manage budgets that are tied to individual projects, providing them with more direct access to budget notifications and customization like adding a team's group email to receive budget notifications speeding up response if necessary.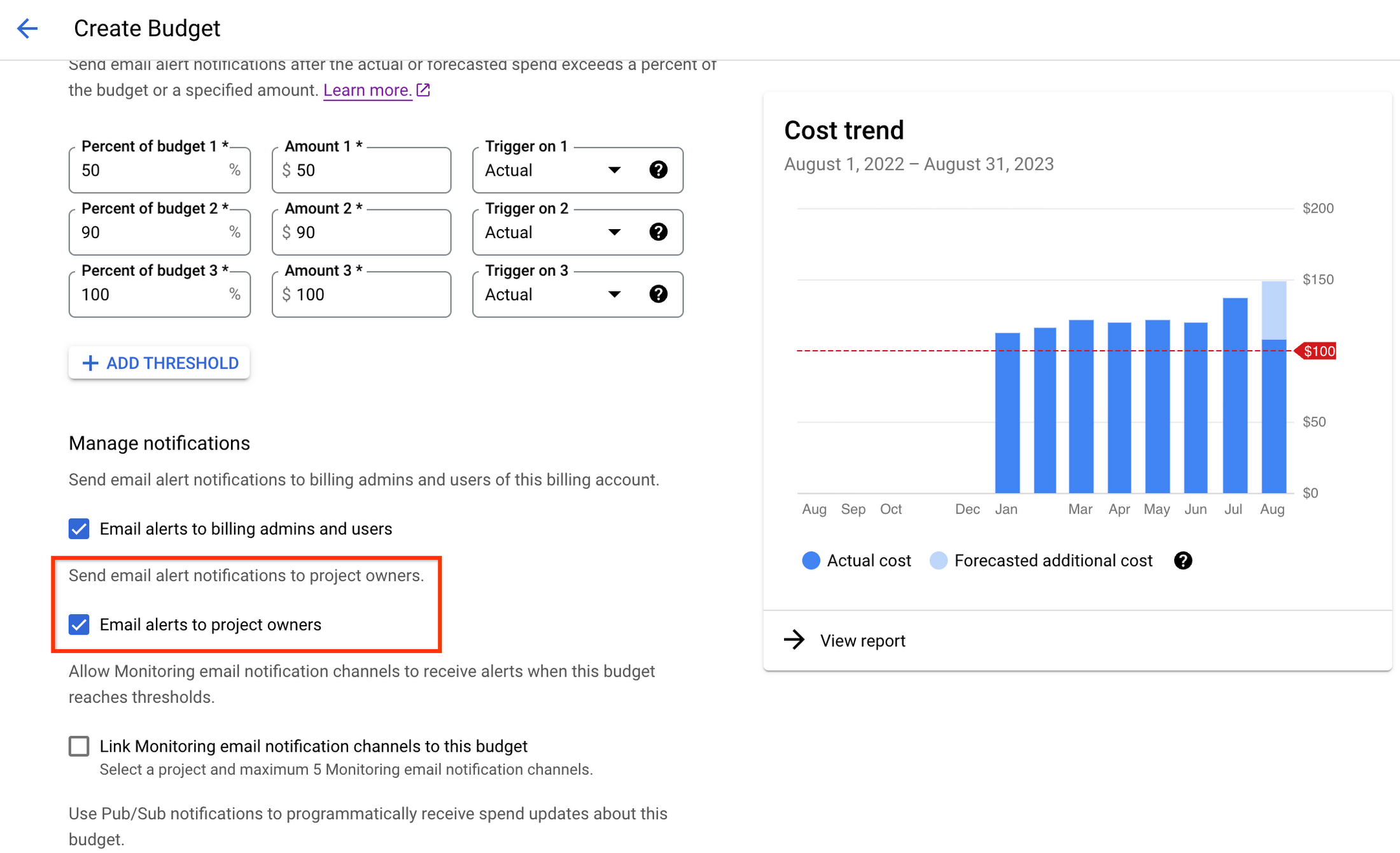 Create budget screenshot – managing notifications (Source: Google blog post)
In a Google blog post, the authors Mark Mirchandani, developer advocate, and Yogendra Joshi, billing product manager at Google, explain why Google brought the feature in preview into Cloud Billing:
By bringing all of the features of budgets to users with project permissions, project users can now track their costs and choose the best way to be notified with actionable information and avoid cost surprises. Rather than forcing billing account administrators to set up and manage a budget for each project, Project Owners can manage their own budgets through the console and receive notifications as their spend goes up.
Besides providing project owners and editors with the ability to create budgets, a Cloud Billing Budget API offers a means to update and manage budgets when dealing with many of them. Moreover, by leveraging Cloud Functions, developers can automate budgeting or integrate budget notifications into their own project workflows. The latter allows developers to cap the spending on certain non-production projects after reaching a specified threshold, shutting down any resources attached to that project.
Other public cloud providers like AWS and Microsoft offer budget features like Google Cloud to manage cloud spend. For instance, AWS Budgets provides a service that allows users to set custom budgets to track their costs and usage and respond quickly to alerts received from email or SNS notifications if they exceed a certain threshold. At the same time, in Microsoft Azure, users can create and manage budgets in the Cost Management service, including setting up notifications.
Furthermore, managing budgets is a crucial capability in the FinOps Framework from the FinOps Foundation, a non-profit organization dedicated to advancing cloud cost management and optimization. Public Cloud Vendors Google and Microsoft are premier members of the organization.
Within the framework, the organization explains Budget Management in its documentation:
Budgeting for Cloud (or other IT expenses) is a process of collecting estimated expenses for a specific period of time. Decisions on how to operate as a business, what to invest in, and other strategic decisions are made based on budgets. If actual expenses do not match the budget, it can impact the operations and other decisions that were made based on those budgets.
Lastly, Microsoft provides guidelines to implement the budget management capability within the FinOps Framework into Cost Management. At the same time, Google is a FinOps Certified Service Provider committed to helping organizations manage their cloud costs effectively.