A study conducted by the consultancy firm Analysys Mason suggests that shifting networking and security workloads to Cloudflare can significantly reduce network carbon emissions. According to the report, Cloudflare's networking products can help companies lower their carbon emissions and meet sustainability objectives.
Comparing the average power consumption for services on Cloudflare and on-premises equipment, the report outlines how shifting networking and security functions to the cloud improves the sustainability of network and security operations. Patrick Day, director at Cloudflare, and Annika Garbers, project manager at Cloudflare, write:
The study noted that specialized hardware is more efficient per watt of electricity consumed at performing specific functions — in other words, a device optimized for intrusion detection will perform intrusion detection functions using less power per request processed than a generic server designed to host multiple different workloads (...) These gains are only relevant when a specialized hardware device is consistently utilized close to its capacity, which most appliances in corporate environments are not.
The stack used for the comparison includes a network firewall and WAF, DDoS mitigation, load balancing, WAN optimization, and SD-WAN. According to the independent study commissioned by Cloudflare, a major gain of the migration to the cloud is reducing idle capacity (needed only to be able to gracefully handle spikes in traffic) on local devices. There are marginal gains as well from improved power usage effectiveness (PUE) and carbon intensity of data centers optimized for cloud workloads.
While the headline is "Switching to Cloudflare can cut your network carbon emissions up to 96%", the study suggests that overall carbon emissions reduction of 78-96% depending on the network and significant assumptions: among them, the enterprise will not make the move to the cloud before the natural end of the life cycle of its current on-premises equipment and the move will not create significant changes in the distance or number of connections over which the enterprise traffic will travel.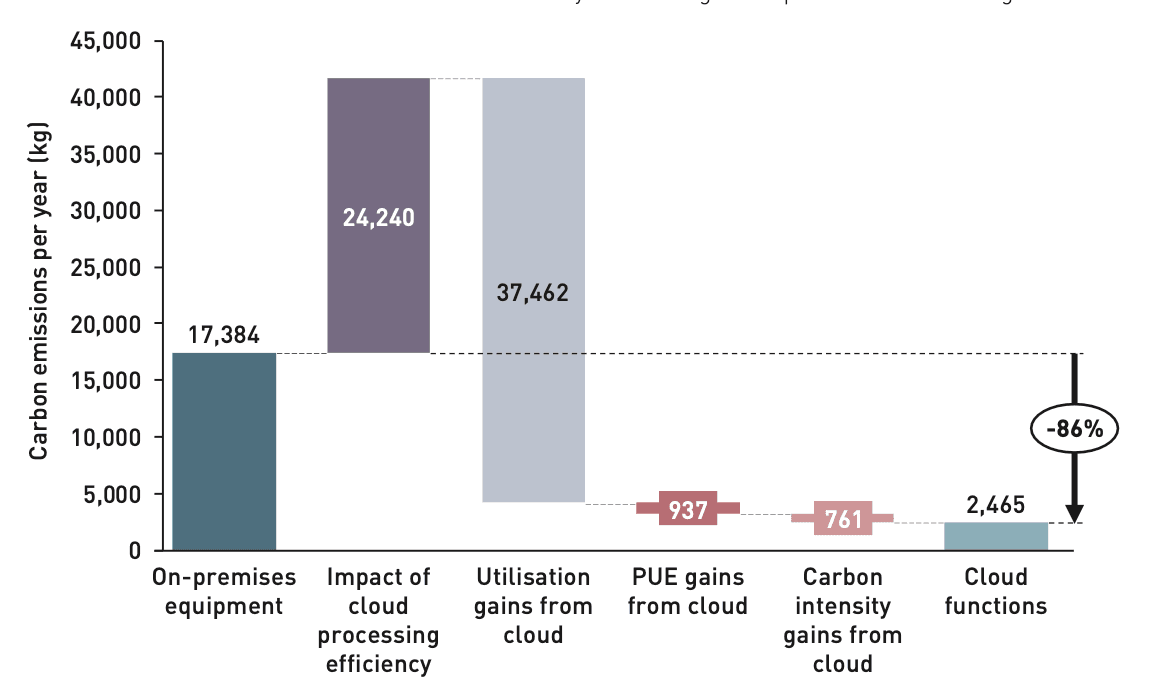 Source: Cloudflare blog
Cloudflare recently applied to join the Science Based Targets initiative (SBTi), a project targeting climate action in the private sector by enabling organizations to set science-based emissions reduction targets across facilities, operations, and the supply chain. The SBTi is a partnership between the CDP, the United Nations Global Compact, the World Resources Institute (WRI), and the WWF. Day and Garbers add:
Cloudflare's commitment to SBTi reduction targets builds on our ongoing commitments to 100% renewable energy, to offset or remove historic carbon emissions associated with powering our network by 2025, and reforestation efforts.
Cloudflare is not the only provider suggesting that a migration to cloud services can reduce overall carbon emissions, with sustainability a major topic across the industry. Adrian Cockcroft, former VP for sustainability architecture at Amazon, shared his vision at QCon London on sustainability commitments and challenges for cloud providers and the need for a new real-time carbon footprint standard. His presentation is now available on InfoQ.