Presentations
21:45
Cloud
Cloud
Follow
283 Followers
Presenters discuss implementing security for a Windows deployment on PCF with Bosh add-ons via Runtime Config.
54:51
DevOps
DevOps
Follow
827 Followers
Tara Raj and Rich Turner talk about how Microsoft has been overhauling the Windows command-line experience in Windows 10, allowing to run Windows and Linux tools via WSL, Docker or the cloud.
01:32:57
.NET
.NET
Follow
378 Followers
Guy Davidson, Tom Miles discuss 64-bit programming pitfalls, Unity builds, writing portable code, and persuading a large development team of varying levels of skill to write portable code as well.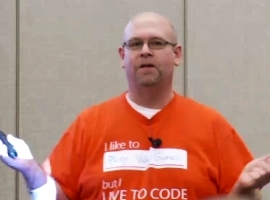 01:00:29
Followers
William Fink demos a pre-release Kinect for Windows, showing its new features and capabilities.
59:58
Followers
Paul Stack discusses using PowerShell and Puppet to administer Windows machines, showing how to configure a Windows server and set up a development environment in short time.
38:19
Followers
Raymond Chen tells the story of Windows' API evolution from the beginning up to its latest version, WinRT.
39:19
Followers
Dominique Louis covers the history of MonoGame from its roots in XNA and how the team ported it to 8 platforms. He demoes taking a simple 3D XNA sample from Windows to Android and Windows Phone 8.

01:05:19
Followers
Eric Nelson explores Windows as a web platform using IIS 7.0 providing an architecture deep dive and striving to reduce the lines of code in web applications.