45:46
Followers
Daniel Spiewak discusses how modern languages such as Scala, Clojure, and Haskell have moved beyond the simple lambda calculus paradigm, being better suited for large application architectures.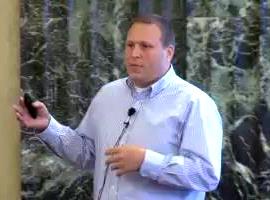 27:15
Followers
Creighton Kirkendall discusses how polymorphism is implemented in Clojure, Ocaml, Haskell and Scala.
27:32
Followers
Adam C. Foltzer introduces Molog, a typed functional logic programming language written in Haskell.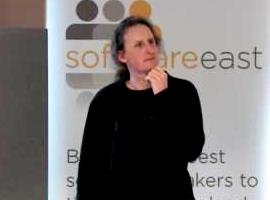 01:00:19
Followers
Simon Marlow introduces some of the main features of Concurrent Haskell: forking threads, MVars, asynchronous I/O, simple inter-thread protocols.
19:08
Followers
Michael Feathers describes an approach toward planning the design of the functional portions of an application by using a variation of Haskell type expression syntax.
01:00:24
Followers
Bryan O'Sullivan introduces some of the technologies pioneered in the Haskell community to streamline software development and reduce operational costs, while producing beautiful code.
38:23
Followers
Jesper Louis Andersen presents a case study of a BitTorrent client written in Haskell, drawing conclusions on what is great and not so great in Haskell and comparing it with a similar Erlang client.
01:11:10
Followers
Philip Wadler discusses second-order quantification, from its inception in the symbolic logic of Frege through to the generic features introduced in Java 5, touching on aspects of faith and evolution.
01:00:56
Followers
Michael Snoyman presents Yesod, a web framework written in Haskell and containing a web server, templating, ORM, libraries (templating, gravatar, etc.).
50:22
Followers
Bryan O'Sullivan presents a case study of a small startup that chose Haskell for its server-side code, outlining the advantages and disadvantages of using Haskell to quickly create a solid solution.
44:39
Followers
Bryan O'Sullivan discusses the design considerations and types usage when building distributed systems with Haskell and Riak, starting from a case study of a system using vector clocks.
44:29
Followers
Guy Steele, Douglas Crockford, Josh Bloch, Alex Payne, Bruce Tate, and Ted Neward (moderator) hold a discussion on the future of programming taking questions from the audience.