Presentations
Older
42:06
Web API
Web API
Follow
174 Followers
Ole Lensmar discusses various ways and tools for testing web APIs, focusing on using Cucumber.
41:57
DevOps
DevOps
Follow
412 Followers
Stefanos Zachariadis discusses techniques for bringing testing to production, showing how to sanity check a live system using end-to-end testing, and limiting interference with real users.
41:39
Development
Development
Follow
300 Followers
Seb Rose discusses BDD, what it is good for and what tools can help, common BDD anti-patterns and myths, as well as advice for starting with it.
47:04
DevOps
DevOps
Follow
412 Followers
Dave Farley discusses using acceptance testing to work quickly and effectively, building functional coverage for complex enterprise-scale systems, and managing and maintaining those tests.
01:15:22
Followers
Marco Vermeulen discusses doing Behaviour Driven Development with Cucumber, Groovy and Grails.
45:30
Followers
Bruce Meacham discusses using user stories and business requirements for writing good tests that lead to good code, with examples in C#/SpecFlow and JavaScript/Cucumber.
40:20
Followers
Marco Vermeulen showcases using BDD and Cucumber to develop GVM, an open source tool for managing parallel SDK versions.
43:20
Java
Java
Follow
557 Followers
Marco Vermeulen explains using Cucumber and Groovy to apply BDD to a project, using Gherkin for writing scenarios, Groovy for step definitions, Spock for new features, and running Cucumber features.
43:38
Followers
Thomas Sundberg emphasizes the need for writing executable specifications demoing on example using Cucumber.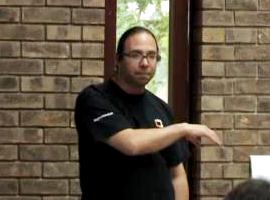 01:15:34
Followers
Paul Grenyer discusses why and how to create a Walking Skeleton - an implementation of the thinnest possible slice of real functionality that we can automatically build, deploy and test end-to-end.
44:29
Followers
Yehoram Shenhar and Alistair McKinnell present a way of doing testing having every team member involved in planning, estimating, and defining tests, testability being an architectural system attribute
33:41
Followers
Matt Wynne discusses Mortgage-Driven Development and adopting other people's tools and processes without adaptation or consideration to actual needs.