There is a common understanding among agile organizations that they should aim to build the products which are "good enough", that meet the criteria for being a MVP (Minimum Viable Product). The challenge is how do we know what "good enough" means for our customers? Scott Sehlhorst, Product Management and Strategy Consultant at Tyner Balin LLC, explains the different perspectives of "good enough" in his blog.
Determining good enough informs the decision to ship or not. Otherwise, this is all academic.
Scott says that products fail because of the misunderstanding of the phrase "minimum viable product" or "good enough":
Many people mis-define product in MVP to mean experiment.
MVP is an experimental process, not a product development process.
"How much can we have right now?" is important to customers.
Scott mentions that the customer owns the definition of good enough and that Kano analysis gives us a framework to deal with it. Some people think that "more is better" but after a certain level it becomes diminishing returns.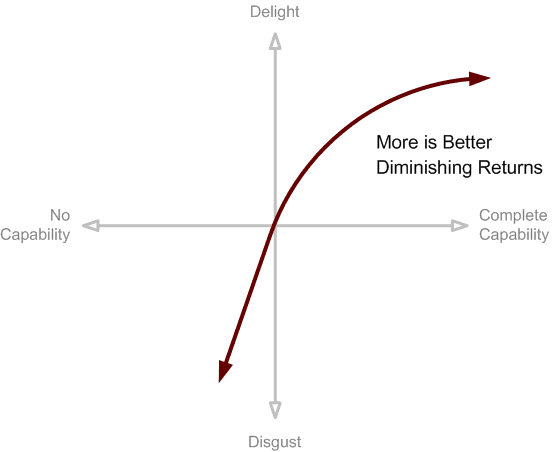 We can deliver a product with a level of capability anywhere along this curve. The question is – what level is it "good enough?"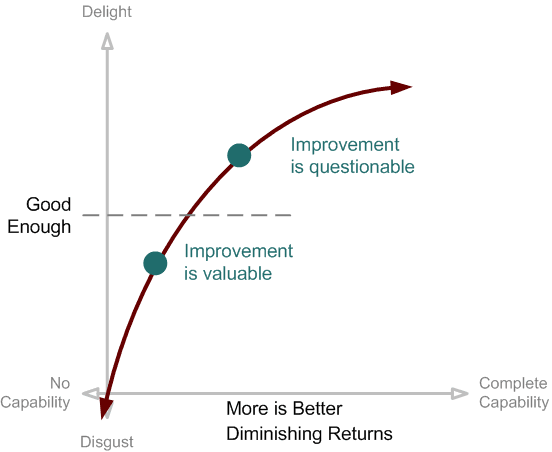 Once we reach the point of delivering something which is "good enough," an additional investment to improve that particular capability is questionable – at least from the perspective of our customers.

As we increase the capability of our product, we simultaneously provide smaller benefit to our customers at increasingly higher cost.
Scott says that equation varies based on the product and customer. It also depends on the level of improvement cost based on technology stack and market situation, among other things.