At Agile Tour Singapore Conference 2015, Shane Hastie, Chief Knowledge Engineer and Agile Practice Lead at SoftEd and Lead Editor at InfoQ, gave a keynote talk titled "Applying the Agile Mindset to Tough Business Challenges". His session was focused on THE Agile mindset and how it can be helpful in solving tough problems. He started his session by defining THE Agile mindset using Jim Highsmith's quote:
Agility is the ability to both create and respond to change in order to profit in a turbulent business environment.
Afterwards, Shane explained the difference between a fixed and growth mindset. People having a fixed mindset think that requirements are fixed and they should not change while growth mindset people accept the volatile nature of requirements. He emphasized changing the mindset to accept uncertainty and embrace change. In addition to that focus on value and quality on top of cost, schedule and budget constraints.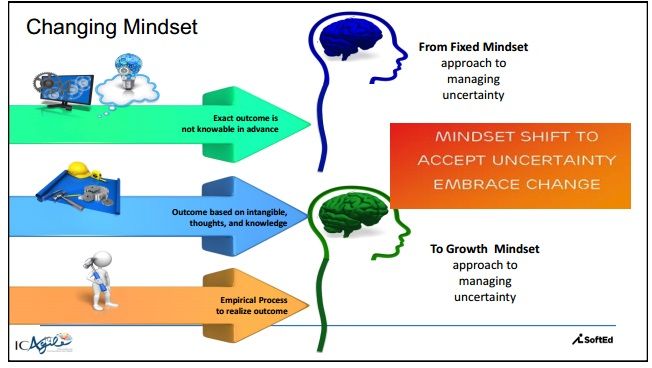 Moving forward, Shane depicted today's world in the state of volatility, uncertainty, complexity and ambiguity therefore we face some tough problems in business. A few of them are:
Overwhelming data, but not enough information
Fickle customers - loyalty doesn't exist, they know everything about you
Disengaged staff members – 70% actively looking for role change
Skills shortage – drives distributed teams
Financial cycles disconnected from value generation
Technology changes constantly – everything is digital now
To overcome these challenges, Shane described some Agile ways for instance design thinking, hypothesis driven delivery, flow of value, cost of delay, feedback loops, avoiding waste and a new management approach of beyond budgeting.
He emphasized that only applying these Agile methods are not sufficient, organizations should also think of managing complex changes, which will last for a long time. He concluded his session by describing following five factors which helps in creating lasting changes.