We present here the results for three questions included in the Readership Survey that InfoQ ran in 2015.
During the month of November last year InfoQ ran a survey in an attempt to find out more about our readers, the topics that are of interest to them, some of the technologies they are using or planning to use, where they are located, what they would like to read on our website and others. The survey addressed the readers of the English infoq.com subsite, and it was promoted via the website itself, newsletter, and the usual social channels – Twitter, LinkedIn, Google+ and Facebook. A total of 2,100 readers took the survey, a fair number of respondents for such a study and enough to let us draw some meaningful conclusions based on it. We are presenting here the results for three questions.
1. Which of the following topics are you most interested in (select all that apply)?
Readers show the greatest interest in Architecture (84.27%), followed by Java, Cloud & DevOps, Data Science, Process and Practices, Web APIs and web technologies, all around 50-55%, as depicted by the following chart: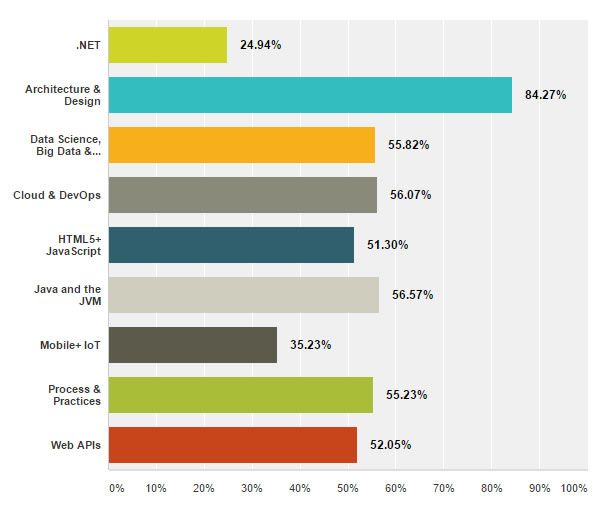 2. Is your organization currently using or planning to use any of the following technologies?
InfoQ's editorial coverage is focused on some of the key technologies that are in the Innovator and Early Adopter phases, and our readers seem to fit largely into that early adopter group. When it comes to specific technologies that were of interest for our survey, most InfoQ readers currently use or plan to use in the near future NoSQL databases (77.48%), Containers (71.79%), and Microservices (70.45%):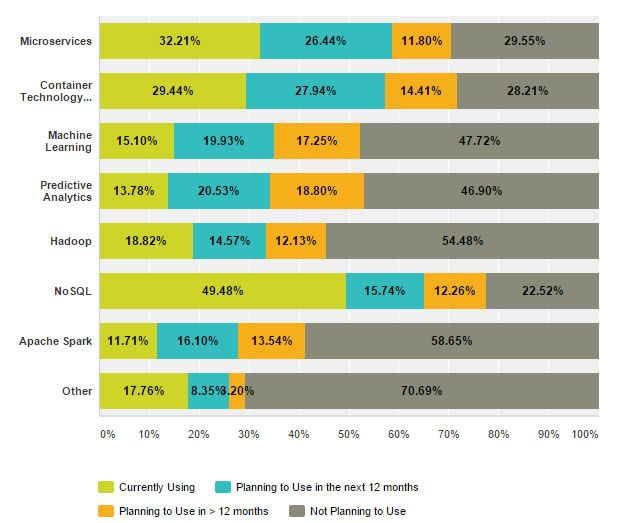 3. What kinds of technologies/tools are you using (please select all that apply)?
Finally most readers use a certain Development Framework (82.95%), a Continuous Delivery/Deployment process (70.76%), have some investments in the cloud (60.10%), employ certain Analytics/Reporting tools (55.92%) and make use of Application Performance Monitoring (51.83%) to check on the status of their deployments: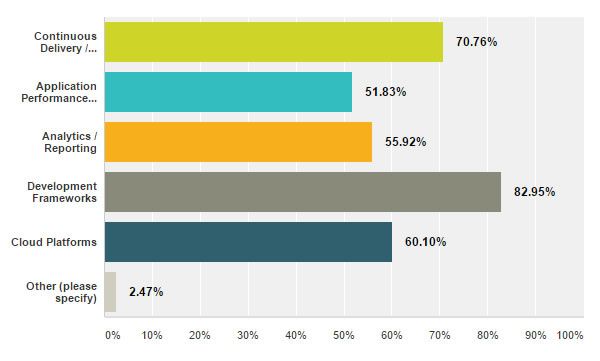 A number of QCon San Francisco 2015 Early Access codes were sent by the end of November to arbitrarily selected respondents to reward for their participation in this study. We thank all respondents and readers for their interest in InfoQ, and we plan to use the responses received to better understand and serve you.