RightScale published the results of its survey report highlighting the devops trends in the industry. Docker, Puppet and Chef dominate the tools market, with Docker adoption rising in the enterprise.
RightScale had earlier published its annual State of the Cloud report in February. This devops trends report is a deep dive into the devops related responses in that survey. The survey was conducted by RightScale in January 2016 among 1060 technical professionals.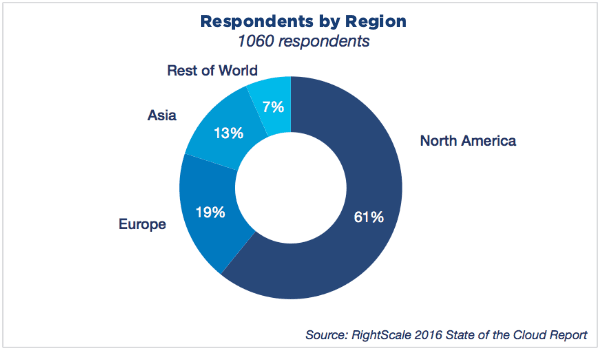 DevOps adoption has grown steadily in the enterprise between 2015 and 2016. In what can be termed a surprising trend, devops adoption is stronger in the enterprise (81%) compared to small and medium businesses (SMBs), which was at 70%. The adoption in enterprises is bottom-up - highest at the project or team level and lesser at the business unit and company level.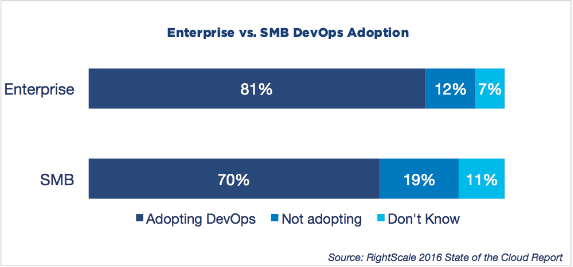 The top 3 devops tools are Docker, Puppet and Chef. Puppet and Chef are almost equally popular, Puppet being slightly preferred among enterprises (42%) over Chef (37%).
Docker is the fastest growing tool with adoption almost doubling industry-wide (among the respondents) as well as within enterprises. In addition, most enterprises plan to use it in the near future. What are the challenges that they are likely to face? The most pervasive is lack of experience, followed by security and immature technology as reported by the ones that are already using it.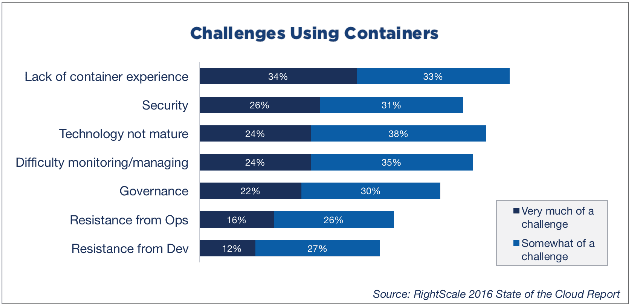 Organizations are using Docker in both development and production, with more enterprises (29%) using Docker than SMBs (24%). More enterprises are also experimenting with Docker as compared to SMBs. Geographically, Europe is seeing the highest usage of Docker. Globally, it is used mostly in tech companies, followed by enterprises and developers.
Among the configuration management (CM) tools, Puppet and Chef dominate, with Ansible usage doubling between 2015 and 2016. Organizations that do use such tools tend to use more than one tool, with Chef and Puppet being the ones most widely used together. Use of these tools also goes hand-in-hand with Docker usage, as around 80% of Docker users also use a CM tool.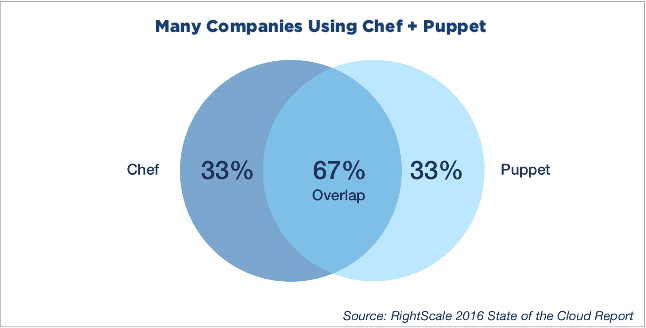 Standard distributions like Ubuntu, CentOS and RedHat dominate the container operating systems. Of the minimalist OSs, CoreOS is the most widely used (12%).

The focus for containers in 2016 will be on gaining education and experience. 24% of the respondents also expressed interest in running containers on bare metal as opposed to virtual machines where they are more commonly run. Projects like Hyper are a step in this direction.