Amazon launches its 18th AWS Region in the Paris area to better serve their customers in and around France. This region will be the fourth in Europe after Germany, Ireland, and the United Kingdom. The French region, called the AWS EU (Paris) region, will provide customers the full stack of AWS services including compute, storage, networking, IoT, Artificial Intelligence (AI) and serverless computing.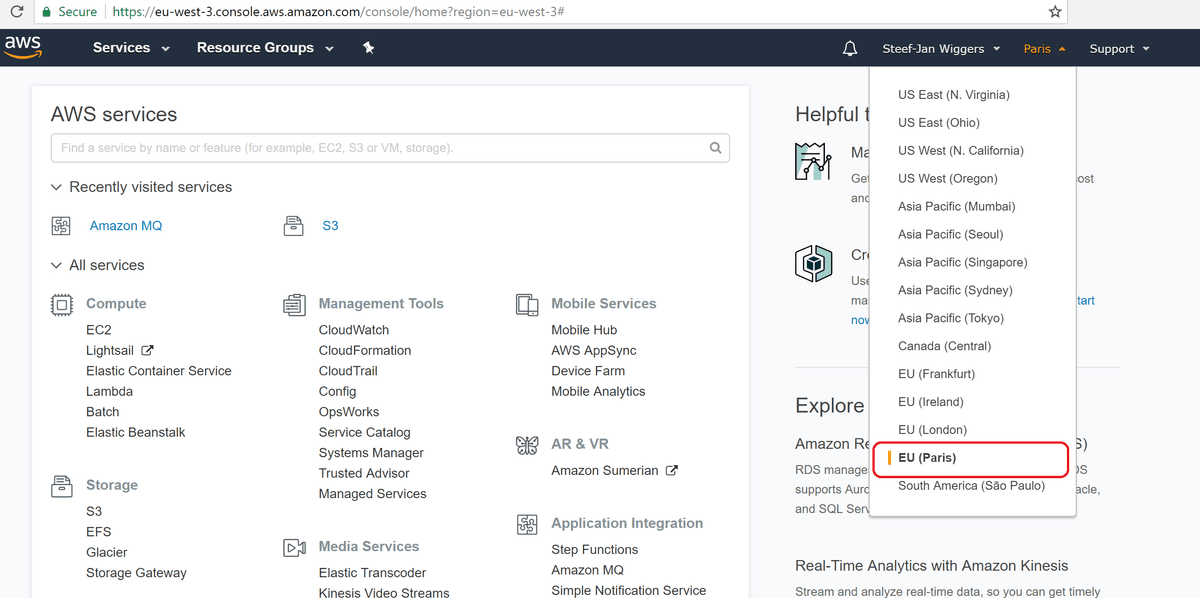 The presence of an AWS region in France is due to the demand from French customers like Canal+, Decathlon, Cap Gemini and Société Générale. Andy Jassy, CEO of AWS, in a statement on the new France region, said:
We have tens of thousands of French customers using AWS from regions outside of France, but we've heard them loud and clear and are excited to deliver them an AWS Region in France, so they can easily operate their most latency-sensitive workloads or house any data that needs to reside on French soil.
An AWS region can be described as a cluster of data centers in a specific geographic area, and Amazon now has 18 of them in total (including AWS GovCloud) across the Americas, Asia, and Europe. A region has multiple availability zones, and the AWS EU (Paris) region, for instance, has three. An availability zone is a separate geographic location, which has its own infrastructure, including cooling, power, physical security and redundant, ultra-low-latency networks, to minimize the risk of service disruptions.
Furthermore, each region offers customers a set of AWS services, which vary in number, provide high levels of security and adhere to compliance standards. These include ISO-standards 27001, 27017, and 27018, SOC-standards SOC 1, SOC 2 and SOC 3 Security & Availability, among others.
AWS regions are certified under the EU-US Privacy Shield, a framework for how companies may exchange information across the Atlantic while adhering to privacy laws in different countries, and the General Data Protection Regulation (GDPR). The latter will be in effect in the European Union on the 25th of May 2018.
Moreover, European countries like Germany and France have strict data sovereignty laws, which means tech companies are required to keep data of citizens within the country boundaries. These requirements and the availability of cloud services locally drive the three big public cloud providers Microsoft, Amazon, and Google to invest billions in data centers in Europe. Microsoft offers its Azure and Office365 services through data centers in the UK, Germany, Netherlands, Ireland, Austria, and Finland. Also, Microsoft plans two regions soon in France. Googles Cloud Platform services are available in Europe through data centers in Ireland, Belgium, and the UK, and they are planning for more in Finland and the Netherlands. Finally, Amazon will expect to have another data center in Sweden.
These investments by the public cloud providers are not only driven by privacy laws or performance and availability, but also to motivate customers to push innovations on their respective cloud platforms. With the new infrastructure Region in France, AWS customers will have new opportunities. For instance, the French state-owned railway company SNCF built a mobile application on AWS to give traffic information to the 14 million travelers across its network in real time. Agnes Chiroux, the SNCF application project manager, responded on the new region in France:
The new AWS Region in France is an opportunity for us to speed-up innovation and ensure a good experience for our users. In the future, we expect to develop new predictive features for the SNCF application, using machine learning and big data services in the AWS Region in France, to deliver reliable information to travelers. Using the new AWS Region will enable us to pursue our mission, which is to keep travelers informed in real time and always suggest the fastest and easiest way to reach their destination.