Product development expert and agile ("with a small a") practitioner, community builder and stalwart David Hussman ("The Dude") passed away on 18 August, 2018. Hussman was the founder of DevJam, known for devising Dude's Law to succinctly express the value in a product or idea, and a strong advocate of pragmatic approaches to software development drawing on the ideas embodied in the Agile Manifesto without being tied to any particular framework or methodology.
He was one of the first to advocate and use Story Mapping, working with Jeff Patton to explore the ideas and share them with the community as far back as 2009. He produced the tool CardboardIt to enable teams to produce story maps electronically.
He received the Gordan Pask award in 2009 for his contribution to the agile community. JB Rainsberger said of Hussman at that time:
"David is not just someone who builds agile communities, but someone who is building community builders."
Dude's Law is a deceptively simple construct that he devised, inspired by Ohms Law; it states that Value = Why divided by How.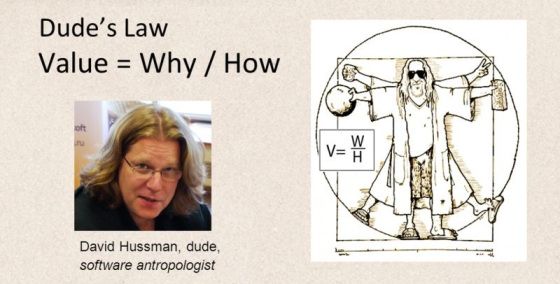 He explained the thinking behind Dude's Law here and spoke about it in this episode of the InfoQ Culture Podcast.
He freely shared his knowledge as a speaker, coach and educator. He was regularly featured on InfoQ for his talks and presentations
In February 2018 he spoke to the Developer on File podcast about his life as a musician, father, entrepreneur and community builder, and his battle with lung cancer.
The DevJam tribute to Hussman says:
David Hussman was a thundering catalyst and pioneer for the agile community. More importantly, it was his coaching, mentoring, and sharing of ideas and techniques that will forever leave his imprint on all of our lives. His ability to string together chords of pragmatism and sustainability pushed product learning to new heights and brought together product communities. David is survived by his loving wife and two daughters.

For his impact on the community and on our lives, we honor his memory today and always.
We invite you to share your memories of Hussman to the comments.