In 2017, Gartner replaced their study and associated Magic Quadrant on "Application Development Lifecycle Management" with new research on "Enterprise Agile Planning Tools". According to the analysts, by leveraging "customer centric and business outcome driven practices with continual feedback", Enterprise Agile Planning (EAP) tools help organizations establish agile practices at scale. This, in their opinion, represents an evolution from project-centric agile tools and traditional application development life cycle management (ADLM).
The Magic Quadrant for Enterprise Agile Planning Tools specifically targets tools which support the development of software through the use of agile methodologies. Rooted in iterative development and highly accelerated processes, the authors of Gartner's piece consider that this type of approach drives the need for tools that support, among others:
Frequent deliverables based on business outcomes
Increased visibility into the flow of work
Requirements captured from the user's perspective, typically using epics and user stories
Gartner defines a set of inclusion and exclusion criteria, amongst which we can find:
A minimum revenue of 10 million dollars, or the local currency equivalent
A minimum of two customers, 500 or more licensed users
General availability to the customers who are not in beta or any other type of limited releases
The vendor providing services like support and training
The Product needs to support at least two key use cases
Mandatory support for multi-team projects, cross-project and portfolio dependency tracking and reporting, and portfolio-level backlogs
Mandatory cloud support and the availability of on-premise at the customer's option.
RESTful integration API
Gartner evaluates tools' vendors by their "ability to execute" and by the "completeness of their vision" through the analysis of a variety of vectors. Data collected during the research is then used to position each one of the companies analysed into one of the four existing groups: Leaders, Challengers, Visionaries and Niche Players. The following picture shows how current players are performing in the market according to Gartner's criteria: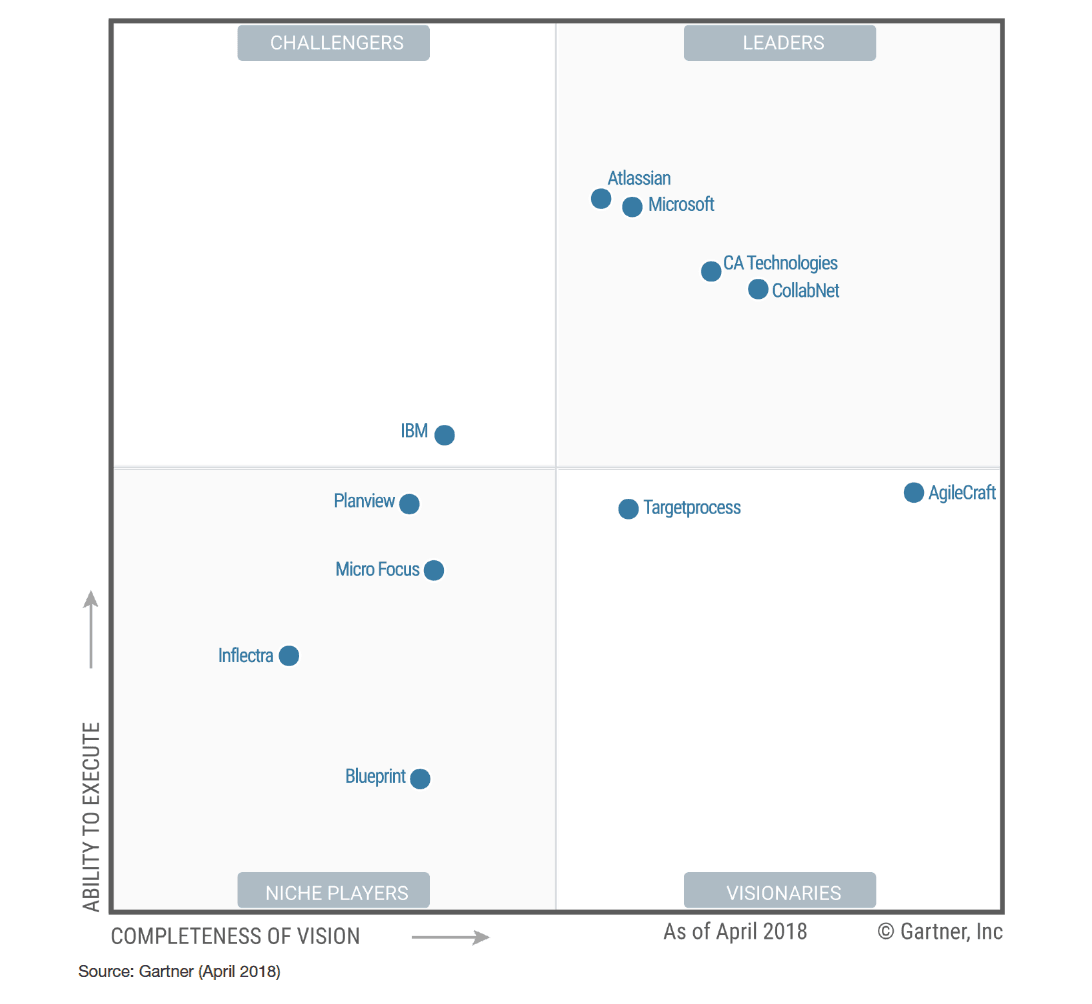 On the other side, buying companies have to deal with different factors when it comes to an enterprise agile tool selection. Among these is the level of maturity of agile practices in the company. According to the authors of the study, "changing the development culture is still the most prominent challenge to agile adoption", reported as such in 81% of the cases.
The reasons most often cited by the users in support of their tool's choice are:
Increasing product/project visibility (76% of reference customers cited this as a reason)
Creating internal/external operational efficiencies (70%)
Coordinating teams (70%)
Driving practice adoption (69%)
Improving business process outcomes (67%)
They also mention that:
Most organizations consider a number of tool providers when making their decision. The key decision factors are dominated by product functionality and performance, but product roadmap and future vision weigh in heavily along with overall cost.
The Magic Quadrant for Enterprise Agile Planning Tools, 2018, was published earlier this year and Gartner has recently made available a complimentary work on critical capabilities of EAP tools, in which they analyse several tools across a set of concrete use cases.