In a recent blog post, Microsoft announced the general availability of Power Apps Portals, a solution that allows organizations to publish customer, partner and community portals to internal and external users using a low-code, configuration-driven, responsive web experience. The portals solution also provides federated identity, a challenge often found in external-facing portal solutions, by integrating with identity systems such as: Azure AD, Okta, Facebook, Google or LinkedIn.
Power Apps Portals are the successor to Dynamics 365 Portals and are aligned to Power Apps' low code/no code persona, but with professional developer extensibility. Similarly, they are built on top of the Common Data Service (CDS), which allow developers to build entity-driven web experiences, but does not require Dynamics licensing. However, for those with Dynamics 365 licensing, Microsoft provides prebuilt templates to address customer self-service, partner management, event management and community self-service scenarios that use underlying CDS entities. Both portal and templates can be provisioned from the Power Apps Maker experience.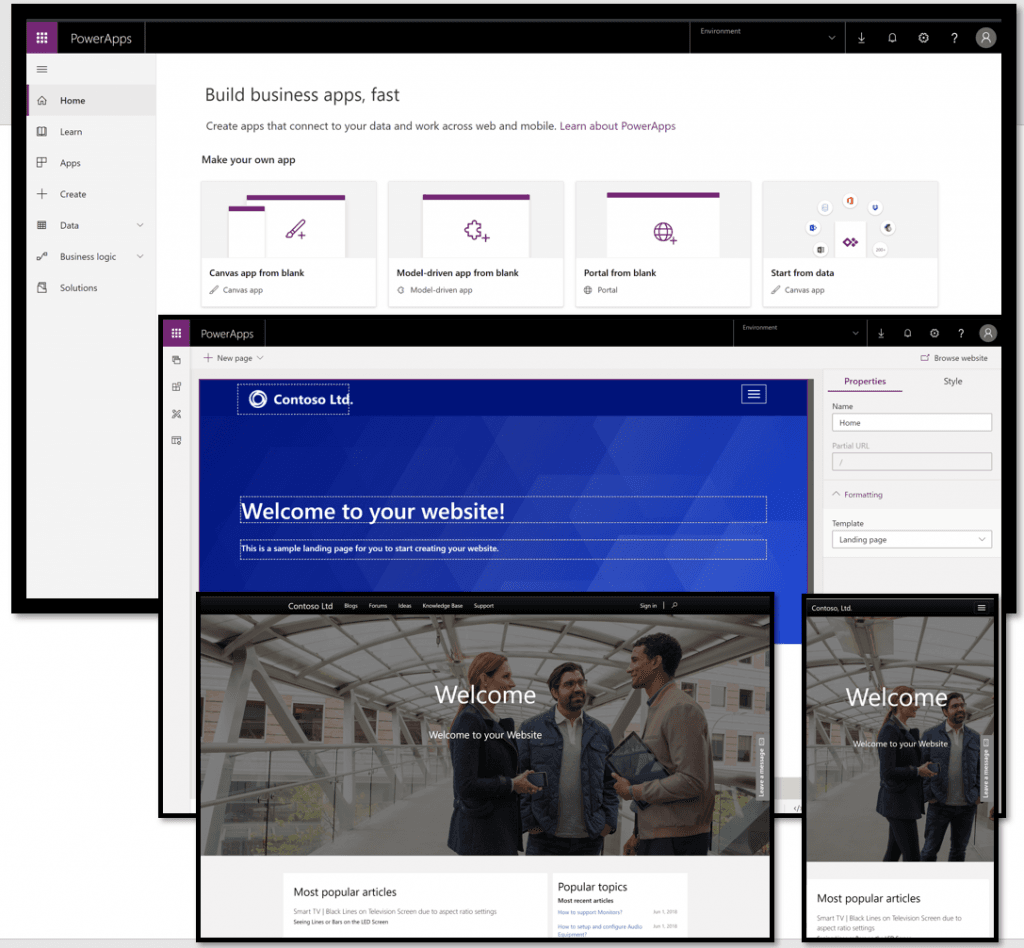 Image source: https://powerapps.microsoft.com/en-us/blog/powerapps-portals-are-now-generally-available/
A goal for Microsoft is to provide organizations with the ability to create pixel perfect, responsive and multilingual sites. Dileep Singh, a principal program manager lead at Microsoft, explains how they accomplished this:
Makers have full control over HTML and CSS. If you don't like how a form looks, you can change it. We have standardized on css and javascript patterns using bootstrap 3.3.7, which means you can acquire any bootstrap theme and apply it. Because we use bootstrap, our experience is automatically responsive, which provides a great experience, regardless of the device.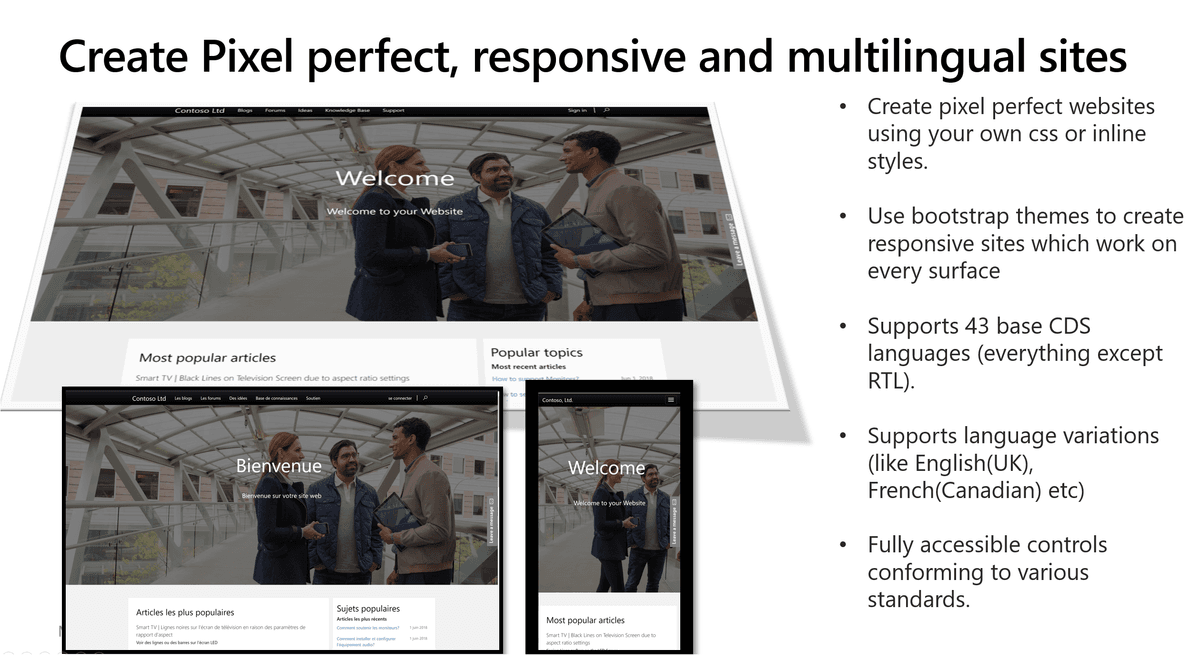 Image source: https://myignite.techcommunity.microsoft.com/sessions/83516?source=sessions
Integrated experiences with other Microsoft technologies also exist within Power Apps Portals, including embedding Power BI reports, dashboards, and tiles. In addition, SharePoint and Azure Blob Storage can be used to store documents and Application Insights can be used to track end-user usage. Azure Application Gateway can also be used to further enhance perimeter security by providing a Web Application Firewall (WAF) that protects against denial of service attacks.
Power Apps Portals initially launched in preview in July 2019. Since this time, Microsoft has added many new features including migrating from previous versions of portals, portal checker rules, new page layouts and theming support within the portal design studio. Singh further explains:
We have added a lot more capabilities since the preview. One of the key additions is theming support within the portal design studio. This means that you don't have to leave the portal design studio to apply themes. Previously, you had to go to a model driven app experience, whereas now it is right in the design studio.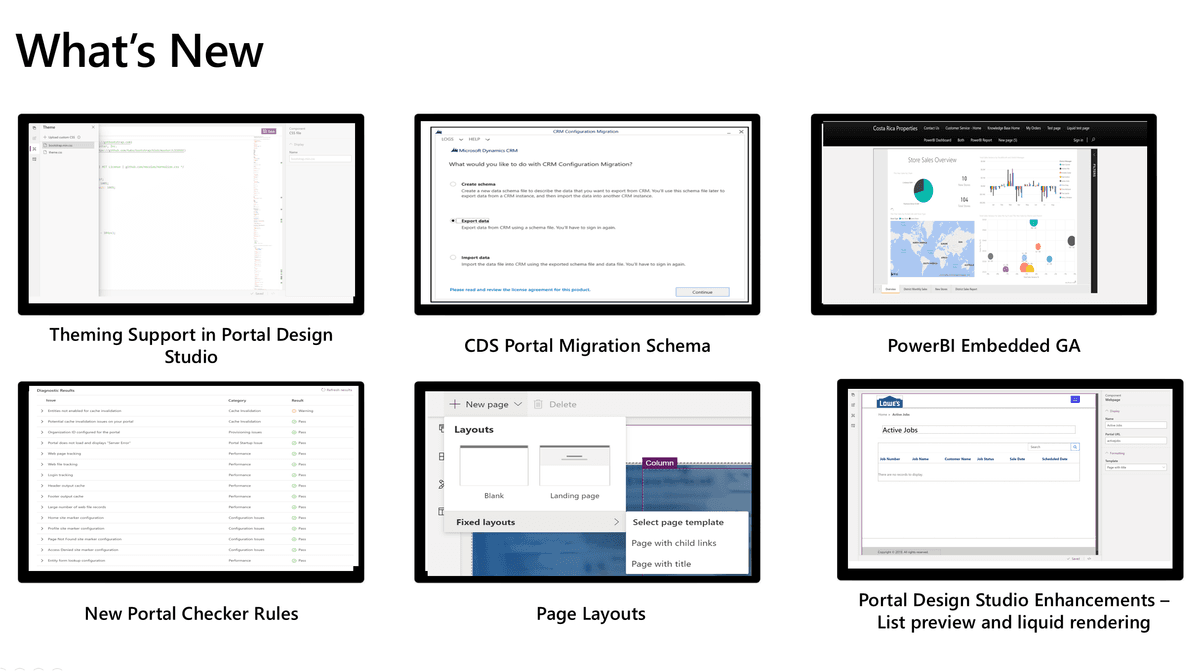 Image source: https://myignite.techcommunity.microsoft.com/sessions/83516?source=sessions
Microsoft claims that more than 6000 Power Apps Portals were provisioned since the July 2019 preview and were created by more than 2500 monthly active portal makers. At the recent Ignite event, Microsoft shared some additional telemetry about their portal solutions including they have more than 11 million monthly active users using portals and more than 14,000 active portals are in operation, an increase of 50% year-over-year. For organizations looking to try out Power Apps Portals, they can do so by signing up for a trial.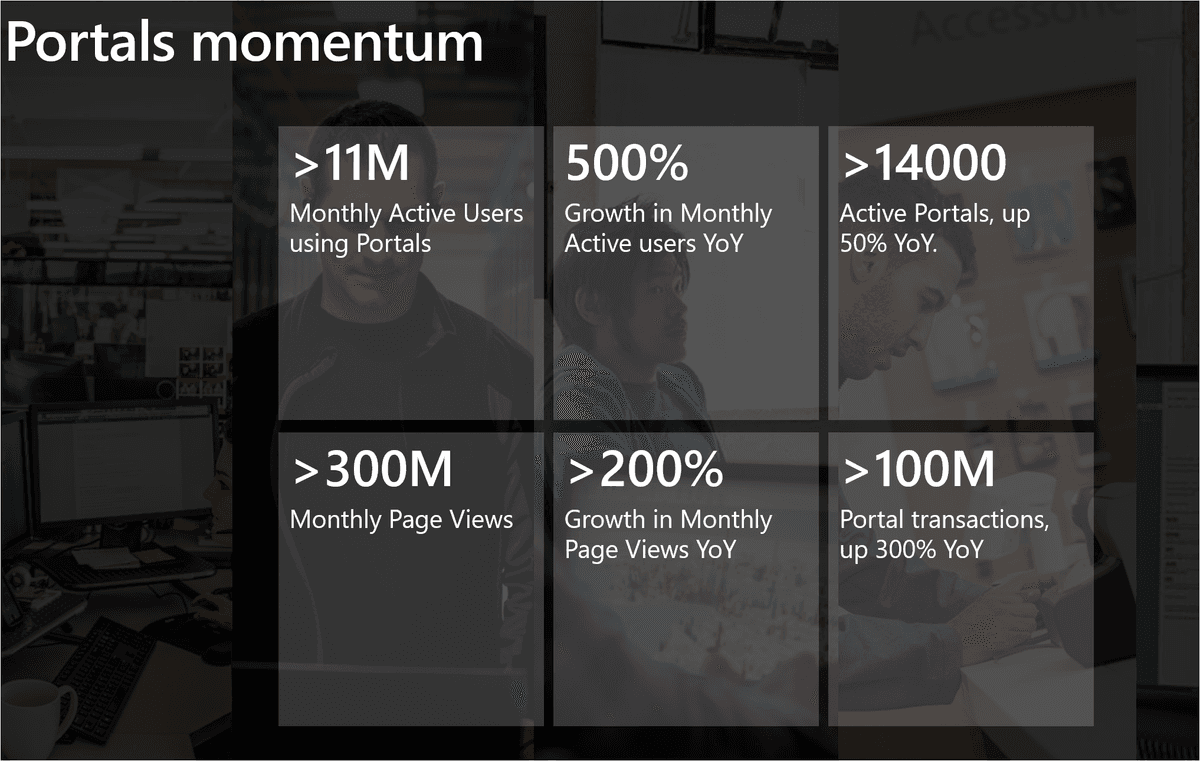 Image source: https://myignite.techcommunity.microsoft.com/sessions/83516?source=sessions