Recently, AWS launched Amazon FSx File Gateway as a new type of AWS Storage Gateway, providing customers with a way to access data stored in the cloud with Amazon FSx for Windows File Server, instead of using and managing on-premises file servers. Amazon FSx File Gateway optimizes the on-premises access of file shares by maintaining a local cache of frequently-accessed data.
AWS Storage Gateway, the public cloud provider, offers customers a hybrid cloud storage service with almost unlimited storage capacity at lower costs. They can, for instance, leverage the gateway to move backups to the cloud, use on-premises file shares backed by cloud storage, and provide low latency access to data in AWS for on-premises applications. For such use cases, AWS offers four different types of gateways, including the new Amazon FSx Gateway next to the Amazon S3 File Gateway, Tape Gateway, and Volume Gateway.
According to AWS News Blog on the Amazon FSx Gateway, the gateway is an ideal solution to consider when customers like to replace their on-premises file servers. The author Steve Roberts, developer advocate at AWS, wrote:
Amazon FSx File Gateway is a solution for moving network-attached storage (NAS) into the cloud while continuing to have low-latency, seamless access for your on-premises users. This includes two general-purpose NAS use-cases that use the SMB file protocol: end-user home directories and departmental or group file shares. Amazon FSx File Gateway supports multiple users sharing files, with advanced data management features such as access controls, snapshots for data protection, integrated backup, and more.
The data itself resides in Amazon FSx for Windows File Server - a fully-managed, highly reliable, and resilient file system, which doesn't require setting up and operating file servers, storage volumes, and backups. It provides a fully-native Windows file system in the cloud, with Server Message Block (SMB) protocol support, accessible from Windows, Linux, and macOS systems running in the cloud or on-premises, and exposes a rich set of administrative features, including file restoration, data deduplication, Active Directory integration, and access control via Access Control Lists (ACLs).
Through the AWS Management Console, users can choose the AWS Region in which to create their gateway. Next, they can choose a hosting platform - there are various hosting platforms available such as Amazon EC2, a virtual machine- into their on-premises environment (VMware ESXi, Microsoft Hyper-V, Linux KVM), or a hardware appliance in an on-premises environment and proceed as documented in the documentation.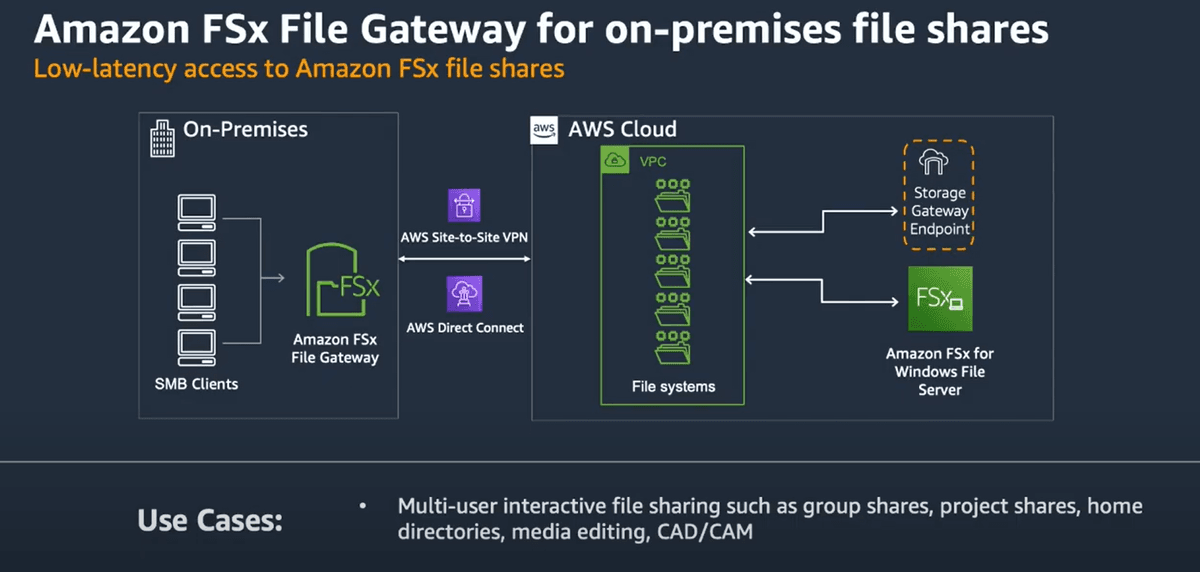 Source (screenshot): https://www.youtube.com/watch?v=ftbyZ7vv3B8
Kelly Griffin, a solution architect at AWS, said in an introduction video on the Amazon FSx File Gateway:
FSx Gateway simplifies file storage in Amazon FSx for Windows File Server, providing existing applications access to windows shares as a cost-effective alternative to on-premises storage. It also provides low latency access to data through transparent local caching – providing customers with a path to leverage a cloud-managed file server on-prem as a replacement of their NAS or file-server, as well as enabling native AWS Cloud services such as out-of-band backup with AWS Backup. With these capabilities, customers can consolidate all of their on-prem file share data in AWS on FSx for Windows File Server and benefit from protected, resilient, and fully-managed file systems.
Note that Microsoft also offers a File Gateway capability within Azure Storage called Azure Files, which offers fully-managed file shares in the cloud accessible via the SMB protocol or Network File System (NFS) protocol.
The Amazon FSx File Gateway is currently available in all commercial AWS regions where Amazon FSx for Windows File Server is available and in the AWS GovCloud (US-West) and AWS GovCloud (US-East) regions, and the Amazon China (Beijing), and China (Ningxia) regions. Furthermore, pricing details can be found on the pricing page.