At the recent Next '21 conference, Google announced Google Distributed Cloud, a set of hardware and software solutions to extend Google infrastructure to the edge and into customer data centers.
The first products released as part of Google Distributed Cloud are Google Distributed Cloud Edge, available in preview to run 5G core and radio access network functions at the edge, and Google Distributed Cloud Hosted, a service that does not require connectivity to Google Cloud to manage infrastructure or APIs. The new services are built on Anthos, the open-source-based platform that unifies the management of infrastructure and applications across public clouds, edge locations and on-premises.
Sachin Gupta, GM and VP of product for IaaS at Google, writes:
Google Distributed Cloud Edge builds on our telecommunication solutions and empowers CSPs to run workloads on Intel and NVIDIA technologies to deliver new 5G and edge use cases. Google Distributed Cloud Edge also allows ISV and network functions partners, application developers, and data scientists to deliver innovation and scale quickly and efficiently.
Among the use cases, Google Distributed Cloud is designed for running local data processing at retail stores, factory floors or branch offices, as well as for low-latency edge compute workloads and deploying private 5G/LTE solutions.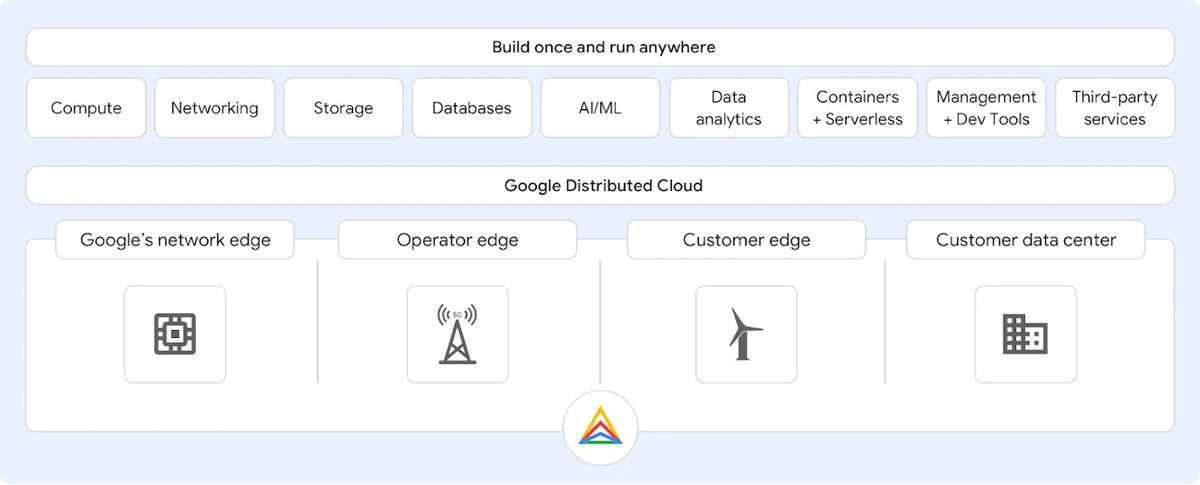 Source: https://cloud.google.com/distributed-cloud
The new service allows deployments on Google's network edge locations and operator edge locations, taking advantage of edge networks and 5G/LTE to offer applications with low latency and bandwidth requirements. Furthermore, Google Distributed Cloud supports localized compute at customer-owned edge or remote locations, and at customer data centers and colocation facilities. This will allow GCP deployments for enterprises that need to address strict data security and privacy requirements, while meeting regulatory compliance.
Matt Asay, global head of partner marketing at MongoDB, highlights how the focus of the Next '21 conference was more on integration than new services:
Google Cloud didn't announce a host of "exciting new features" at Google Next... which is probably exactly what customers want. Same for re:Invent/Build: customers need more "boring" integration of existing services/partners, not yet-another-service.
Sarbjeet Johal, cloud consultant, adds:
There is only one "big" announcement at Google Cloud Next so far and that's Google Distributed Cloud. (...) Embracing multicloud will attract a lot more enterprises to Google Cloud.
Google Cloud is not the only cloud provider offering solutions to run workloads at edge locations and customer data centers. Microsoft runs Azure Stack, a set of products to extend Azure services and capabilities to edge locations and remote offices, and Amazon offers AWS Outposts and AWS edge services.
According to the press release, Cisco, Dell, HPE, and NetApp are among the partners supporting the service at launch.