50:26
Followers
John Hughes discusses automated testing techniques that can catch more code defects, with war stories from the likes of Ericsson, Volvo Cars, and Basho Technologies.
55:02
Followers
Seb Rose explores the choices a team needs to make when considering which Agile test practices to adopt, urging teams to practice, practice, practice until they are happy with the way they code.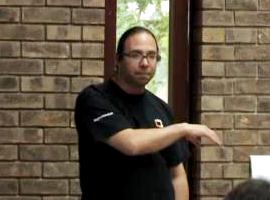 01:15:34
Followers
Paul Grenyer discusses why and how to create a Walking Skeleton - an implementation of the thinnest possible slice of real functionality that we can automatically build, deploy and test end-to-end.
01:07:45
Followers
Doug Hiebert discusses the principles and objectives behind automated testing, TDD, Unit and Integration Testing, using asserting and mocking to write tests, and static analysis.
01:15:42
Followers
David Starr demoes Pex –a parameterized white box unit test tool- and Moles –an isolation framework-, two .NET tools useful for test-first development.
01:03:11
Followers
Ulf Wiger discusses the importance of automated testing along with some lessons learned at Ericsson, including using randomized and extensive testing, aiming to achieve system robustness.
52:10
Followers
Steve Ross-Talbot presents Savara, comprising a set of tools enabling enterprise architects to validate various artifacts against other artifacts based on the "Testable Architecture" methodology.
01:11:29
Followers
Stephanie Forrest believes in the possibility to create evolvable software through automated bug repair, optimizing or improving code and creating new combinations of existing functionality.
55:17
Followers
Ashish Kumar on how Google keeps the source code of over 2000 projects in a single code trunk containing 100s of M of code lines, with more than 5,000 developers accessing the same repository.
59:18
Followers
Alois Reitbauer shows how to do performance testing during development, testing, and production by starting early in the development phase, breaking the test into pieces, and testing continuously.
55:47
Followers
Michael Tamm offers solutions for automatic testing of a web application's presentation layer through HTML and CSS validation and by detecting layout bugs using JavaScript and image processing.
47:21
Followers
Doron Reuveni presents how to use crowdsourcing for testing mobile applications, the specific characteristics of the In-the-Wild testing accompanied by a live demo, and some real-world success stories