52:20
Followers
Greg Brockman shares Stripe's principles powering their software projects and the culture instilled to avoid the usual software engineering traps: failed rewrites, delayed timelines, etc.
58:21
Followers
The panelists discuss if code generation techniques help or hinder long-term software maintenance, and how such techniques can be integrated in the maintenance process.
43:03
Followers
Juan Manuel and Jesús López González share their experience gathered over five years designing and implementing Speech, a DSL for programming social processes.
01:12:02
Followers
Alan Griffiths shares the organizational process, the technological challenges and the solutions adopted by a team developing a C++ systems component.
37:14
Followers
Andy Hume shares details of the processes and approach used by The Guardian in developing and implementing quality in their front-end software.
53:48
Followers
Jeff Patton presents the process of co-creating products, where everyone is involved and responsible, taking examples from three companies he's worked with.
01:11:31
Followers
Roy Clarkson and Gunnar Hillert present how GitHub, Gradle, and Artifactory are used to upgrade Spring's infrastructure and processes.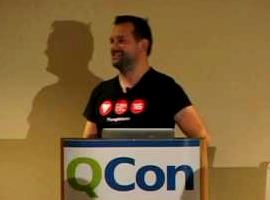 51:51
Followers
Jez Humble addresses the most important factors in implementing continuous delivery: organizational, architectural and process.
51:49
Followers
Chuck Rossi unveils some of the tools and processes used by Facebook for pushing new updates every day.
19:51
Followers
Daniel Rahon, Sébastien Schneider, Raphael Gayno, Jean Marc Gratien, Goulwen Le Fur present the process used in the development of distributed scientific applications at IFP Energies Nouvelles, France
01:14:43
Followers
Dan North discusses the need to embrace uncertainty of scope, technology, effort and structure, expecting the unexpectable and anticipating ignorance.
44:34
Followers
John Stevenson presents Atlassian's values, detailing how its culture formed and was maintained while growing over time.