Books
Newer
Followers
This eMag examines topics ranging from identifying and removing waste in the software process, designing for devops and continuous delivery, the overlap of lean, Kanban and agile, practical implementation of Kanban in software development and how these approaches contribute to innovation.
Followers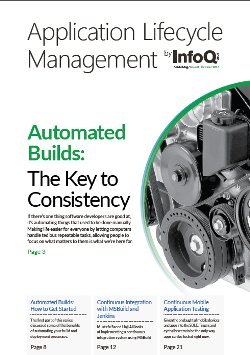 The InfoQ ALM eMag assembles a collection of popular content recently published on InfoQ.com. Learn strategies for automating your build and deployment processes, implementing a continuous integration system, and how to continuously test your mobile applications. Results from the latest InfoQ Research question also show you what ALM tools organizations are adopting today.
Followers
THE CULTURE GAME is a tutorial & reference for creating lasting business agility in organizations. This book provides you with specific tools & techniques to help teams (and the entire enterprise) rapidly respond to change, and describes 16 patterns of team-learning behavior, distilled from Agile software development, and provides the tools to socialize these ideas throughout your organization.
Followers
This mini book is for anyone struggling with a high daily workload, often juggling several projects at once. Pillars introduces you to the world of personal effectiveness and through simple steps help you get a better sense of importance, optimize your focus and improve your workflow in order to achieve more value. The tools used are a combination of Personal Kanban and The Pomodoro Technique®.
Followers
This book provides a set of essential thinking tools for understanding Agile adoption and transformation: how they differ and what you need to know to avoid being another statistic in the widespread adoption failure. In particular, you will learn how to use culture to work more effectively with your organization.
Followers
This mini-book offers an easy to follow 10 step guide to taking the initial plunge and start using Lean principles to optimizing value and flow in your system. Each step consists of a section explaining "why" followed by examples of specific tools, practices and rules that have helped other teams better understand and optimize their system.
Culture & Methods
Culture & Methods
Follow
526 Followers
Scrum and Kanban are two flavours of Agile software development. So how do they relate to each other? Part I illustrates the similarities and differences between Kanban and Scrum, comparing for understanding, not for judgement.Part II is a case study illustrating how a Scrum-based development organization implemented Kanban in their operations and support teams.
Followers
For those getting started with Agile, this book offers a detailed first-person account of how one Swedish company implemented Scrum and XP with a distributed team of 40 people, and how they continuously improved their process over a year's time.
Followers
This book guides the reader on crafting their own agile adoption strategy focused on their business values and environment. This strategy is then directly tied to patterns of agile practice adoption that describe how many teams have successfully (and unsuccessfully) adopted them.