Followers
In this eMag, we curated a series of articles that look at automation in the cloud and management at scale. We spoke with leading practitioners who have practical, hands-on experience building efficient scalable solutions that run successfully in the cloud.
Followers
Ganesh Prasad makes a clear distinction between the terms "governance" and "management", and shows how the design of these two complementary functions may be approached through the core notion of dependencies. SOA is not just about technology after all, but is a way of thinking that affects the entire organisation.
Followers
The release of Java 8 was considered a game changer for the Java platform. With new features like lambda expressions, streams, and the new Date and Time APIs, the Java 8 demonstrates that a language can be modernized without compromising stability or backward compatibility. In this eMag we explore some of the important or lesser known features of Java 8, along with a glimpse of how we got here.
Followers
Ganesh Prasad has discovered the secret to unlocking SOA's wasted potential. He aims to reignite SOA practice with a fresh, lightweight yet rigorous method based on the single most important element that underlies all types of system interactions - the notion of dependencies. "Dependency-Oriented Thinking" is the book that reveals these secrets for the first time.
Followers
Apache Hadoop is proving useful in deriving insights out of large amounts of data, and is seeing rapid improvements. Hadoop 2 now goes beyond Map-Reduce; it is more modular, pluggable and flexible and it fits a variety of use cases better. We explore this as well as some tools that can help utilize Hadoop better.
Followers
Over the past 15 years the term REST has been used and discussed a lot, whether it's when comparing with Web Services, used within the context of Cloud, or of course when talking about use the Web we use every day. In this eMag you will learn about these and other important aspects of REST.
Followers
This eMag examines topics ranging from identifying and removing waste in the software process, designing for devops and continuous delivery, the overlap of lean, Kanban and agile, practical implementation of Kanban in software development and how these approaches contribute to innovation.
Followers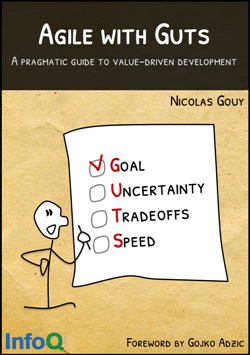 This book describes how a large organization uses techniques to focus on the right product and to deeply anchor the idea that less output can deliver more outcomes.
Followers
This pocket book contains many exercises that you can use to do retrospectives, supported with the "what" and "why" of retrospectives, the business value and benefits that they can bring you, and advice for introducing and improving retrospectives.
Followers
The Lean Startup eMag brings together a selection of popular articles, interviews and news recently published on InfoQ.com. Lean startup can be used to determine customer needs and decide which products to develop or services to provide, helping you to deliver business value to your customers.
Followers
Web APIs are driving important new business and technology models. In this issue leading practitioners share their experience on making money from APIs and on API design best practices. We discover "cloud native" architectures that scale to meet global demand and get hands on building API's from contract to go-live. We look at connected devices, mashups and consider new standards for security.
Followers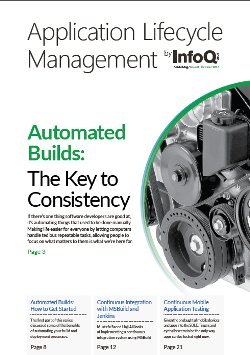 The InfoQ ALM eMag assembles a collection of popular content recently published on InfoQ.com. Learn strategies for automating your build and deployment processes, implementing a continuous integration system, and how to continuously test your mobile applications. Results from the latest InfoQ Research question also show you what ALM tools organizations are adopting today.